Meister, an official Tokyo Tech student club, has finished fourth in the 2023 Japan International Birdman Rally, held at Lake Biwa in Hikone, Shiga Prefecture in late July. The annual contest — the 45th of its kind — was broadcast on Japanese television by Yomiuri Telecasting Corporation on August 30.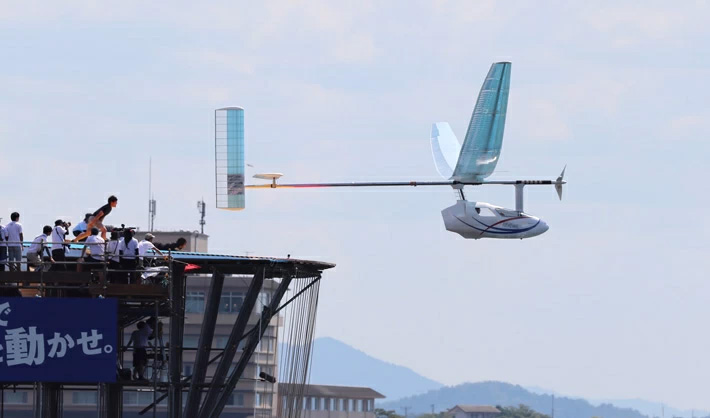 Tokyo Tech was one of thirteen teams participating in the Human-Powered Propeller Plane category, in which planes and pilots are pushed by teammates before launching off a platform above the surface of the lake. The aim is to fly as far as possible via two designated checkpoints, and ideally, return to the platform. Meister's pilot and plane flew 3,851.83 m before touching down on the surface of the lake.
To mark their comeback from a series of recent struggles, which included a suspension of activities due to COVID-19, a shortage of club members, and a crash just after take-off during a test flight, Meister named their latest aircraft REVIVAL. For a year, the team worked together to design and fabricate their plane, dreaming of the moment when REVIVAL would take to the skies.
The summer heat and a tricky headwind made the competition tough for the pilots. Meister flew smoothly over Lake Biwa for some 17 minutes but fell short of a podium position. This was, however, Tokyo Tech's best result in the contest since 2015. The team also won the SUPPORTER Award for their efforts in supporting the pilot.
Comments from participating students
Comments from Meister representative Mayu Irie
3rd year, Electrical and Electronic Engineering
We have been working hard to revive Meister as a strong student club, and our team named our aircraft "REVIVAL" to reflect these efforts.
On the day of the contest, the wind gradually picked up as we approached noon, and at one point the competition had to be suspended. We are slightly disappointed because we were expecting a podium finish. Still, our pilot worked very hard and flew gracefully under difficult conditions. I can say honestly that I have never been this impressed in my life! We also won the SUPPORTER Award, and I am grateful to all the Meister members who worked hard as a united team.
I would also like to thank our supporters and all those involved in this project. We could not have come this far without you.
Comments from REVIVAL pilot Subaru Kawami
4th year, Life Science and Technology
I felt a great sense of responsibility to pilot REVIVAL, and carried with me the feelings of all the club members who had built our aircraft through relentless trial and error. That said, I was truly happy to be entrusted with the engine and the piloting of REVIVAL by friends who had gone through various struggles together with me.
I will treasure building and flying this human-powered aircraft, all of which was a sentimental experience. I would like to express my sincere gratitude to everyone who supported us. Thank you very much.
The junior students who have been working with us for a year have already begun to build a new aircraft. I ask for your continued support for Meister as we strive to achieve new heights.
Comments from REVIVAL designer Yuya Nishimori
3rd year, Mathematical and Computing Science
For the past year, I have been trying to utilize my strengths in mathematics and programming to design, optimize, and analyze the entire aircraft, and to build the electrical system and steering mechanism. I have given it my all and worked hard together with other Meister members despite the long hours of work.
REVIVAL was severely damaged during the test flight just before the actual contest, and we worked frantically to repair the aircraft. In the end, we achieved a clean flight, which was extremely moving. We all shared these hardships, and we supported pilot Kawami from the bottom of our hearts.
I would like to thank everyone who followed us to the contest and those who supported us in various ways before our flight.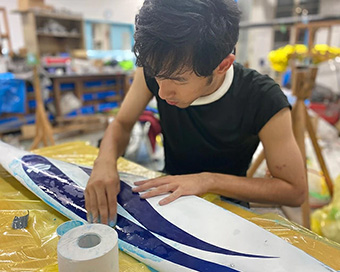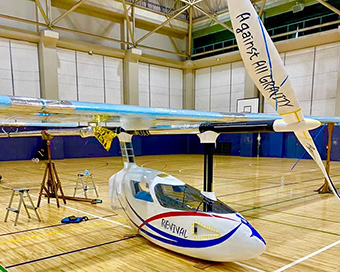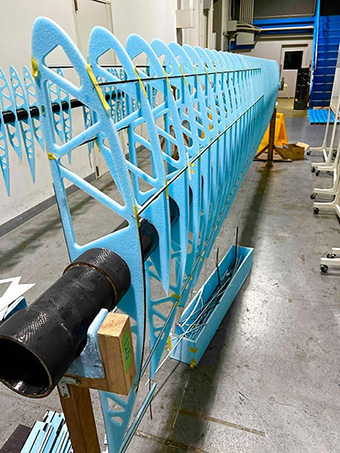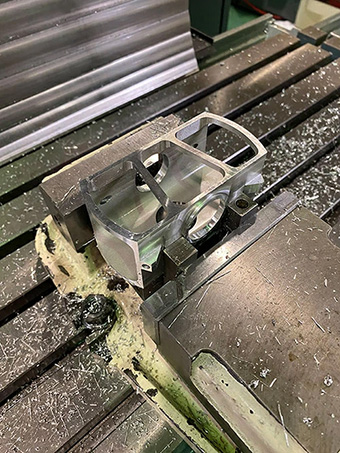 MEISTER members and their roles during the contest
Mayu Irie, Meister representative and Fairing Group member
3rd year, Electrical and Electronic Engineering
Subaru Kawami, pilot and Propeller Group member
4th year, Life Science and Technology
Yuya Nishimori, designer and Electrical Equipment Group head
3rd year, Mathematical and Computing Science
Mao Yamagishi, support team leader and Fairing Group member
2nd year, Mechanical Engineering
Ichiru Ando, Wings Group head
3rd year, Life Science and Technology
Wataru Arimoto, Wings Group
4th year, Mechanical Engineering
Haruhito Takeuchi, Wings Group
3rd year, Physics
Takashi Shinoda, Wings Group
3rd year, Mechanical Engineering
Shuhei Ito, Wings Group
2nd year, School of Engineering
Moeka Tsukamoto, Wings Group
2nd year, Mechanical Engineering
Shota Yamasaki, Wings Group
2nd year, Mechanical Engineering
Akito Saito, Wings Group
2nd year, Physics
Masaharu Otomo, CFRP Frame Group head
3rd year, Systems and Control Engineering
Kentaro Murata, CFRP Frame Group
3rd year, Materials Science and Engineering
Yuka Shiomatsu, CFRP Frame Group
3rd year, Faculty of Science, Ochanomizu University
Kenji Ueda, CFRP Frame Group
2nd year, Materials Science and Engineering
Miki Ono, CFRP Frame Group
2nd year, Mechanical Engineering
Kohei Masuno, CFRP Frame Group
2nd year, Computer Science
Hiroo Yashiba, CFRP Frame Group
2nd year, Systems and Control Engineering
Manato Ishida, Propeller Group head
4th year, Life Science and Technology
Daichi Tanaka, Propeller Group
3rd year, Mathematics
Shinji Motoyoshi, Propeller Group
2nd year, Chemistry
Ryotaro Kato, Propeller Group
2nd year, Physics
Takuma Komaba, Fairing Group head
3rd year, Mechanical Engineering
Keita Kusunoki, Fairing Group
2nd year, Mechanical Engineering
Ayoob Ilyas, Fairing Group
2nd year, Transdisciplinary Science and Engineering
Kohei Hasegawa, Electrical Equipment Group
3rd year, Physics
Yuta Suzuki, Electrical Equipment Group
2nd year, Mechanical Engineering
Takumi Hasebe, Electrical Equipment Group
2nd year, Mechanical Engineering
Yuki Futami, Drive Group head
4th year, Mechanical Engineering
Yuna Kato, Drive Group
3rd year, Materials Science and Engineering
Ryosuke Suzuki, Drive Group
2nd year, Electrical and Electronic Engineering
Akihiro Kaneko, Drive Group
2nd year, Chemical Science and Engineering

Meister is supported by Tokyo Tech Fund
Tokyo Institute of Technology Fund