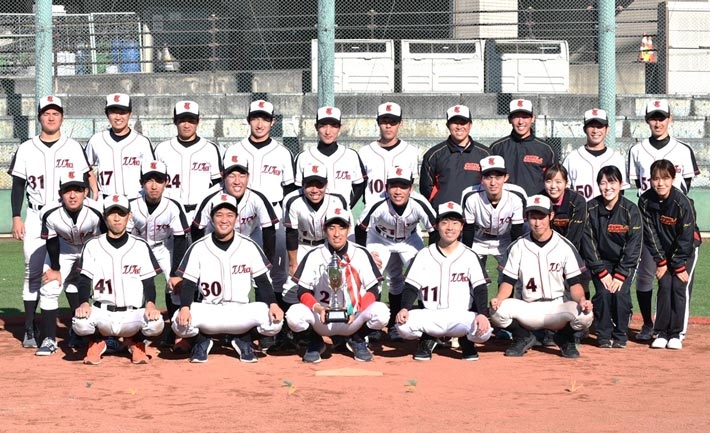 The Tokyo Institute of Technology Baseball Club has won Group 4 in the Fall 2021 Tohto University Baseball League. Under the leadership of captain Tomoki Takahashi, a 3rd-year Life Science and Technology student, the team finished the fall season with five wins and three losses. This is the first cup Tokyo Tech has won in the league since the spring of 2009.
Third-year Civil and Environmental Engineering student Yuya Moriai was selected as the most valuable player, while 4th-year Mechanical Engineering student Satoru Inagaki took home the best pitcher award. First-year Engineering student Kensuke Cho earned the best defensive player award with an ERA of 1.61.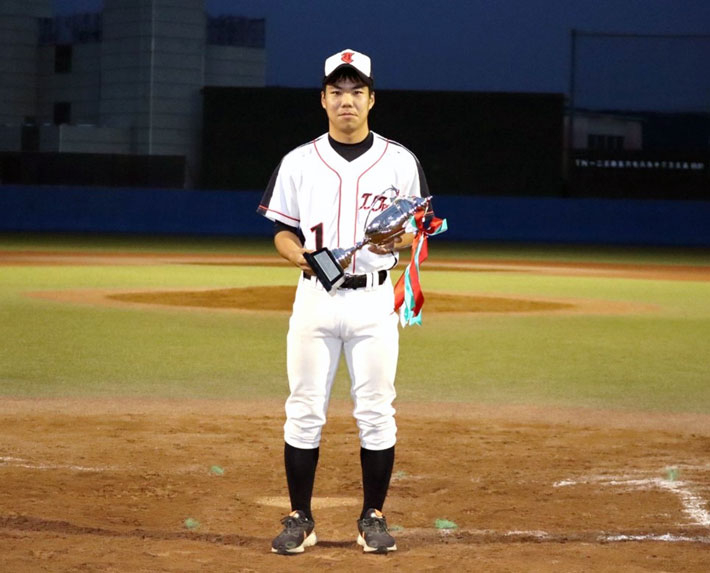 Comments from team captain
Tomoki Takahashi
3rd year, Life Science and Technology
Frustration was setting in as we were in last place for quite a while until this time last season, so I was very happy when we won this cup. Five 4th-year players retired this season, and we are now a new team with only 14 players and three managers. That said, we will work hard every day to win the championship next season and earn promotion to Group 3. We are extremely grateful to all the parents and alumni who have supported us, and to the members of the Tohto baseball league for all their arrangements.
I am currently conducting research on photosynthesis using single-molecule spectroscopy under Associate Professor Toru Kondo. I will continue to devote myself to both baseball and research. Once again, thank you very much for your support.
Comments from MVP
Yuya Moriai
3rd year, Civil and Environmental Engineering
Since I entered Tokyo Tech, the baseball club had been blessed with very few victories. After I became the regular catcher, we lost many games by the narrowest of margins, and I often felt frustrated. When I was selected as the vice-captain of the new team, I felt a great sense of responsibility as the catcher. This season, I was able to contribute to wins both as a batter and as a catcher, and I felt that I had grown as an individual. In the future, I want to be at the forefront of efforts that develop us into team that knows how to win.
I am studying civil engineering, and I would like to specialize in geotechnical engineering with a focus on soil and concrete. This field is also closely related to baseball, and eventually, I would like to find a job related to soil engineering. I look forward to your continued support.
Comments from best pitcher
Satoru Inagaki
4th year, Mechanical Engineering
There were times when I was unable to contribute to the team due to health issues, and I think I put a lot of strain on my teammates. However, with the support of others, I was able to continue my club activities for four years. I feel great joy for having been able to end my last season in this way. In view of my experiences, I hope I can find a way to pay it forward and help develop the baseball club in the future.
For my Independent Research Project, I am working on the development of microfluidic devices used in in-vitro research under the supervision of Associate Professor Tadashi Ishida. With the repeated trial-and-error processes, the gathering of information, and the consultation with professors, senior students, and classmates, I sense close similarities between research and club activities on a daily basis. In the future, I will utilize what I have experienced and learned at the baseball club, and will devote myself to my research. Thank you very much for all your support.
Comments from best defensive player
Kensuke Cho
1st year, Engineering
I am honored to receive such a prestigious award in my first year at Tokyo Tech. I will continue to put in the effort so that I can be even more successful next season and beyond.
I am currently in my first year at the School of Engineering, which means I am also studying a variety of liberal arts and basic science courses. I haven't decided on a career path yet because of the broad range of interesting fields, but I know that I will spend the rest of my time at the Institute striving to be both a good student and a good athlete. I look forward to your support in the future.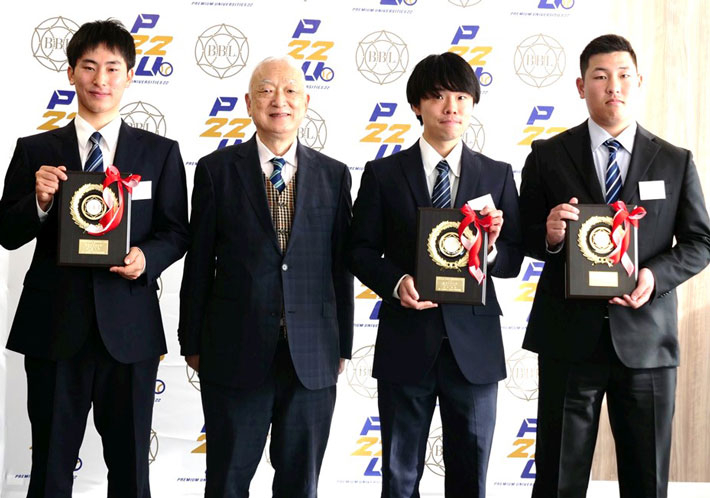 Tokyo Institute of Technology Baseball Club
According to existing records, the Tokyo Institute of Technology Baseball Club was established in 1922, meaning they celebrate their centenary this year. Before World War II, Tokyo Tech's main rivals were present-day Hitotsubashi University, University of Tsukuba, and the former Chiba Medical University. The club joined the Tohto University Baseball League in 1946, and has had approximately 450 members throughout its history.
Club members work hard to improve their technique and teamwork by squeezing in practice sessions early in the morning or between lectures and experiments. With the support of alumni and former team members, the club is aiming for a promotion to Group 3 without compromising its Tokyo Tech style.

Baseball Club is supported by Tokyo Tech Fund
Giving to Tokyo Tech

Contact
Kentaro Nakamura
Professor, Institute of Innovative Research
Adviser, Tokyo Institute of Technology Baseball Club
E-mail : knakamur@sonic.pi.titech.ac.jp