Seven students received the 2021 Tokyo Tech Award for Student Leadership on October 27. Awarded annually since 2002 to 2nd-, 3rd-, and 4th-year bachelor's program students with extraordinary intellect, humanity, creativity, and energy, the award aims to encourage highly motivated students to continue with their studies and work towards becoming global leaders.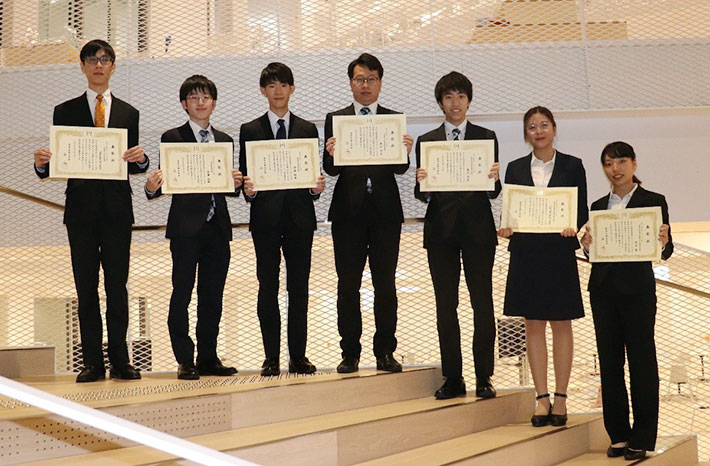 At the awards ceremony, each student received a certificate and prize for their efforts from President Kazuya Masu, and then discussed their achievements and future plans with the head of the Institute.
2021 Tokyo Tech Award for Student Leadership recipients and award-winning activities
Hiroki Yoshida

4th year, Physics
Activities as Student Surveyrepresentative for two years
Participation in planning of activities for female high school students at Open Campus 2020
I am honored to receive the prestigious Tokyo Tech Award for Student Leadership Award. This is a result of the support I received from various people, including the team who worked on the Student Survey, members of the Tokyo Tech Visionary Team student club, faculty members, and others who supported and worked together with me. I feel a deep sense of gratitude. This award has made me realize how blessed I am to be in such a privileged environment, and it has provided additional motivation for the future. I will continue to hone my leadership skills and utilize the communication skills I have developed to conduct my research activities actively.
Kornvik Tanpipat

4th year, Systems and Control Engineering
Leader of team of six international students victorious at the Robocon International Design Contest
Winner of Pitch Micron Award at E×S Challenge contestlaunched by School of Engineering
I very much appreciate receiving this award. For me, this award is a good opportunity to reflect on the past, and to think about what I can achieve in the future. I would like to thank all my teammates who helped me get to where I am today. After completing several volunteer activities, I have realized that there are many things I can do to make the world a better place. I would like to continue to make a positive impact in society, and I will do my best to live up to this award.
Ryuju Ito

4th year, Materials Science and Engineering
主な受賞理由
I am very happy to receive this prestigious award. I would like to take this opportunity to thank the students who worked with me on various activities, and the professors and staff members who supported our activities. At times, my fellow students motivated me, while at other times, they provided the support that I needed. Without the support of the faculty and staff, some of the activities themselves would not have been possible. Receiving this award has given me an opportunity to reflect on my past activities and think about the future. I would like to utilize my experiences as a source of inspiration, and to devote myself to future research, academic work, and other activities in my current lab.
Ryota Ishizawa

4th year, Computer Science
Firm decision making as vice president of Tokyo Tech Festival committee in relation to cancellation of festival due to typhoon and again due to COVID-19
Strong team leadership in Tokyo Tech Alumni Association's student subcommittee to implement online campus tours and welcome receptions for new students
I would like to express my sincere gratitude for receiving this reputable award. Over the past four years, I have been involved in a variety of activities, and all of the organizations that I was part of face the challenge of a lack of human resources. I listened to the opinions of the members of each organization, and did my best to help them maximize their capabilities. I would like to thank all these members today for working together tirelessly. I feel that I was able to have these experiences because of the environment at Tokyo Tech, where student autonomy is highly respected. I want to thank all the faculty and staff members who were involved in my activities. I will continue to apply the skills I have developed through this experience in my future endeavors.
Kota Okuyama

4th year, Life Science and Technology
Thank you very much for selecting me as a recipient of the Tokyo Tech Award for Student Leadership. I would like to express my sincere gratitude to all the professors, people at the Office of Bio-Creative Design, and all the outstanding members of the Bio Creative Staff, the Institute's biological sciences student club, who have been actively involved in the activities, and who made this award possible. Thank you all. With this award as a source of inspiration, I will continue to work even harder on my research and other future activities, and I ask for your continued support and guidance.
Thanh Thanh Thi Dinh

4th year, Transdisciplinary Science and Engineering
Team leader at Junction Tokyo 2019, an international hackathon, and Slush Tokyo 2019,a business startup contest
I am pleased to receive this award. For me, this has been a great opportunity to look back at the path I have been going through in the past four years. Throughout the four years studying in Tokyo Tech, I have been engaged in various activities, and most of them focused on foreigners, especially Vietnamese living in Japan. One of my dreams is to create a better environment for Vietnamese who are living in Japan, and on the other hand, to spread beautiful images of Vietnamese people. I would like to thank my friends, my family, and my seniors, who have been supporting me since I came to Japan. I am currently conducting research on transportation in developing countries, and I wish to contribute to the transportation in these countries. Once again, thank you very much for this prestigious award. I will continue to develop myself in order to fulfill my dreams.
Aoi Matsunaga

4th year, Civil and Environmental Engineering
Team leader in various exercises and courses related to disaster management, aims to reduce the number of disaster-caused fatalities in Shizuoka Prefecture, a disaster-prone area, to zero
I am honored to receive this wonderful award. Thank you very much. The experiences I have had during my time at Tokyo, including my studies in the Department of Civil and Environmental Engineering, have become a great asset. I am overjoyed that my daily activities have been so highly evaluated. I would like to thank the professors and senior students who have guided me to this point. I feel that this award comes with high expectations regarding my future activities. I will continue to acquire experiences and make efforts to achieve my goals, and I am excited to see who will work with in the future.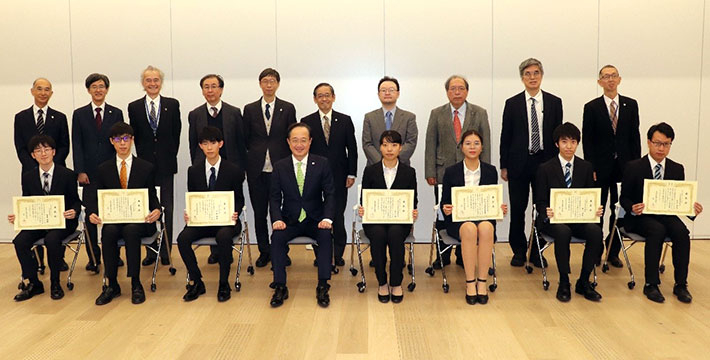 Contact
Support Planning Group, Student Support Division, Student Services Department
E-mail : gak.sie@jim.titech.ac.jp
Tel +81-3-5734-3012