Tokyo Tech student wins Yokohama Business Grand Prix with proposed dietary guidance service
First-year master's student in Life Science and Technology Nodoka Chiba has won the student category of Yokohama Business Grand Prix 2021 with her proposed dietary guidance service based on gut bacteria types.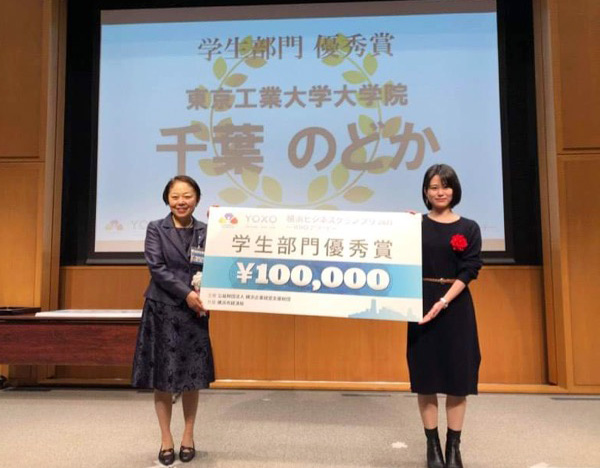 The 23rd Yokohama Business Grand Prix, sponsored by the Yokohama Industrial Development Corporation (IDEC), was held on February 20. According to IDEC, the contest aims to discover entrepreneurs and startup companies striving to provide products and services that create new value in Yokohama. IDEC offers a broad range of support to entrepreneurs and innovators in the city.
This year, 98 applications for the contest were received from across Japan - 54 in the general category and 44 in the student category. Seven general category finalists and three students who passed the document and oral screening joined the female entrepreneur of the year at the Yokohama venue to give presentations on the final day. Finalists were judged based on five criteria - business novelty, growth potential, feasibility, impact on the Yokohama economy, and entrepreneurial potential of the applicant. IDEC has promised to support the commercialization of the plans presented by the winners.
The business plan presented by Chiba is a proposed dietary guidance service based on gut bacteria type of the user. The Tokyo Tech student applied for the contest because she wanted to commercialize the research on human intestinal bacteria that she is working on in the laboratory. While basic research and technological improvements are still required before practical use, she was selected as the student winner due to the immense potential of her plan and the research she has already completed while at Tokyo Tech.
Enterotypes — Types of bacteria in the human gut microbiome
An enterotype is a classification of living organisms based on the bacteriological ecosystem in the human gut microbiome. There are only three enterotypes, regardless of gender or race — Bacteroides, Prevotella, or Ruminococcus — the formation of which is affected by daily dietary content.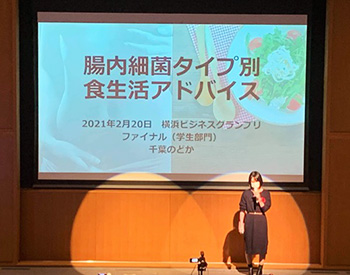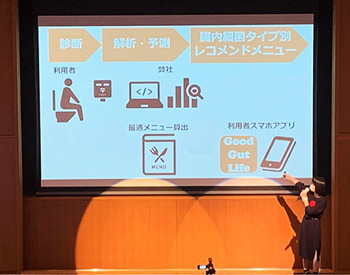 Comments from winner
Nodoka Chiba
1st-year master's student, Life Science and Technology
I learned about this business contest after a lecture on design thinking at Tokyo Tech. I thought I would like to convey to the public the fun and usefulness of my research findings through a service or a product. I am delighted that I was able to express my proposal in the way I did. I am indebted to many people, particularly my academic supervisor, for being able to create and present my plan appropriately. I look forward to enhancing the plan further through discussions with my lab mates.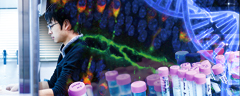 School of Life Science and Technology
—Unravel the Complex and Diverse Phenomena of Life—
Information on School of Life Science and Technology inaugurated in April 2016
School of Life Science and Technology

Schools, Departments, and Institute for Liberal Arts