A total of 168 high school students spent the day at the Institute on June 2, 2019, participating in the "A Day in the Life of a Tokyo Tech Student" program. This was the fifth time the Institute held the event.
A Day in the Life of a Tokyo Tech Student is a program that invites high school students to experience a day of cutting-edge science and technology on Tokyo Tech's campus. The program began as a volunteer-based activity to attract more female students to Tokyo Tech, and has since grown rapidly. This year, students from 17 participating schools* in the Tokyo metropolitan area — mainly girls but also a handful of boys — were joined by 20 teachers who arrived from 15 schools to observe the day's events.
After a friendly welcome from Executive Vice President for Education Tetsuya Mizumoto, the students jumped straight into their busy program for the day, which was divided into three sessions — the morning lecture, lunch with Tokyo Tech students, and the afternoon lecture.
A Day in the Life of a Tokyo Tech Student
The Future of Treatment: Examining our Bodies using Light
Before Professor Shinae Kondoh's lecture on "The Future of Treatment: Examining our Bodies using Light," Institute Professor Akira Kudo raised expectations by showing the audience a transparent image of a Japanese killifish, and introduced the wonders of the fluorescence microscope.
After this, it was time for Kondoh to take the stage. She introduced the path she took to becoming a renowned researcher and scientist, and from the beginning sent a powerful message to her mostly-female audience: Do not let the prejudices around you determine your limits!
Before going into detail on how light can contribute to forefront treatment without using harmful methods such as radiation, Kondoh encouraged the audience to think independently. "You all know those fluorescent glow sticks we see at concerts? Why do they shine so brightly when we crack them? Why is each one different?"
Kondoh explained that chemiluminescence, the light generated by glow sticks due to chemical reactions, varies in color because of wavelength. This same principle can be applied to medical diagnosis. The longer the wavelength, the stronger its power to penetrate the body. If this light can be captured with ultra-high sensitivity, we can expect it to be of great use during diagnosis, as it is not only safe but can also be used to diagnose how tissues function.
After explaining the underlying principles of her research, Kondoh called on a graduate student assistants to help her with experiments involving leaves and mice, providing the audience with a taste of Tokyo Tech lab work.
During the Q&A session, a variety of questions and comments regarding immunity and the central role of engineering in future medical care emerged.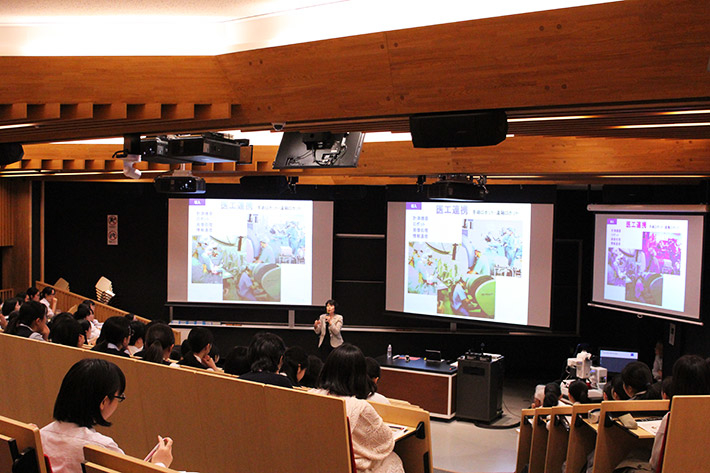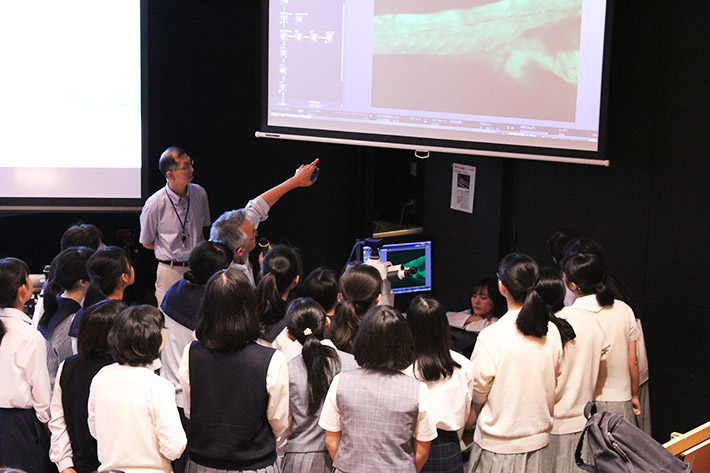 Lunch with Tokyo Tech students
The student cafeteria opened its doors on Sunday especially for this event so that high school students could enjoy a Tokyo Tech lunch together with the Institute's students.
Approximately 40 Tokyo Tech students who were graduates of the participating high schools shared a meal with their younger counterparts while discussing the advantages of being at Tokyo Tech. Students talked about club activities and other highlights of campus life, but also about past and current teachers, as well as recent personal growth.
During the second half of the lunch break, groups shifted gears to a question and answer session where students gathered more detailed information regarding their personal interests. The high school participants were grouped according to their specializations — science, mechanical engineering, electrical and electronic engineering, applied chemistry, computer science, life science, architecture, or transdisciplinary engineering. There was also a separate group for those who did not yet know which direction they wanted to take.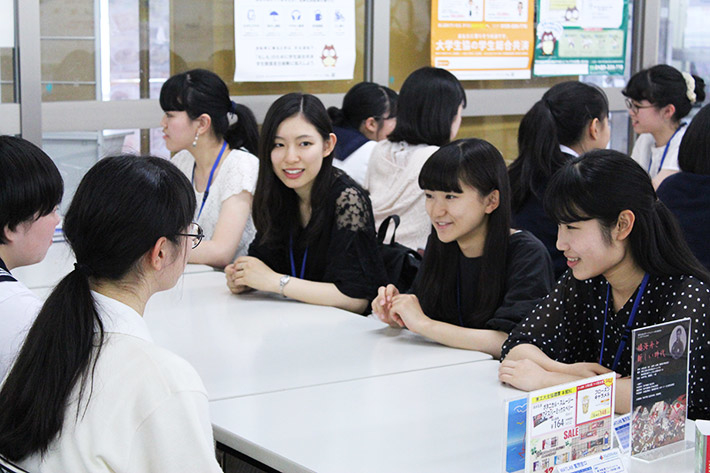 Reach for the stars, you budding engineer!
Professor Nobuyuki Iwatsuki, the dean of the School of Science, facilitated the afternoon lecture.
After a short demonstration of magic and an introduction to the broad field of engineering, Iwatsuki presented the audience with their challenge. The task was to utilize vibration to create a moving machine. By attaching four wire legs to a unit that vibrates with the help of a spring, and then adjusting the position and length of these legs, the participants were able to alter how the unit moved. Iwatsuki and six teaching assistants buzzed around the room, advising the high schoolers as they put their ideas to work. After 20 minutes of creation and testing time, students raced their inventions on a mini "horseracing track." As in previous year, it came down to a photo finish.
To conclude the session, Tokyo Tech President Kazuya Masu held a short speech, encouraging their participants to pursue their dreams at Tokyo Tech.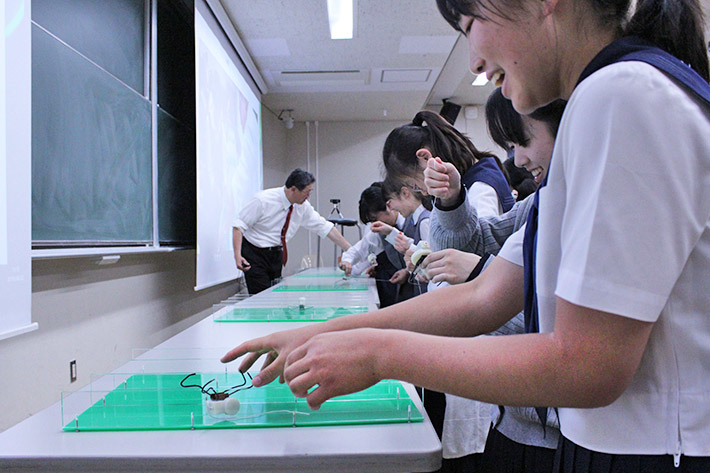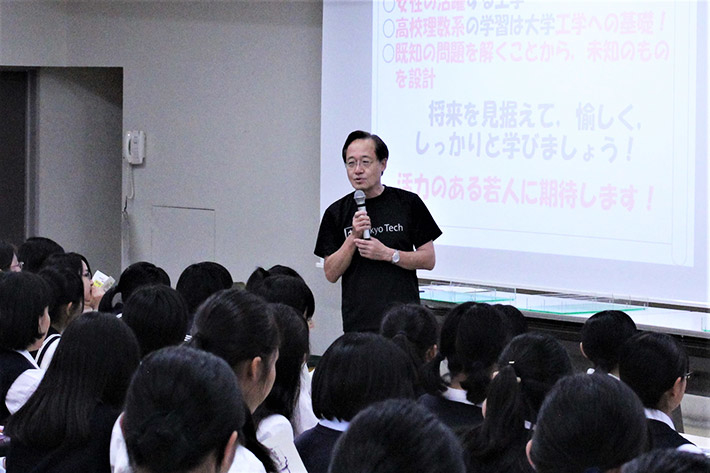 Post-event surveys
Comments on The Future of Treatment: Examining our Bodies using Light lecture:
- I am personally interested in life science and medical treatment, and the professor's talk on collaboration between medicine and engineering further sparked my interest. The demand for technology that bridges medicine and engineering and the development of needs and seeds will only increase in the future, and I hope to become a part of this bridge to close that gap.
- I was inspired to turn negatives into positives, and tough challenges into opportunities.
- It is very interesting to know that we can examine the insides of the body using light. The possibilities offered by unexpected sources are exciting indeed.
Comments on Lunch with Tokyo Tech students:
- The Tokyo Tech students sincerely listened to what I have to say, and offered sound advice on effective study methods. It was a great opportunity, and I now have a much more concrete image of what the Institute is like.
- It was wonderful to meet people who are passionately pursing their interests. I felt like I really want to enter this university. I received plenty of good advice that encouraged me to try even harder in the future.
- I met a Tokyo Tech student who I took a lecture with last year. This time, the same student gave me plenty of advice and encouraged me to follow similar footsteps so I can return the favor to high school students in two years' time!
Comments on Reach for the stars, you budding engineer! lecture:
-I was able to achieve good results during the race. I felt like I want to learn engineering under this professor.
-At first I thought there was no answer to the challenge we faced, but after some fun experiments, the idea became clearer in my head.
-I want to practice this at home and do it even faster!!
*Urawa Akenohoshi Girls' Junior and Senior High School, Saitama Prefectural Urawa Daiichi Girls' High School, Oin Junior and Senior High School, Ohyu Gakuen Girls' Junior and Senior High School, Otsuma Junior and Senior High School, Ochanomizu University Senior High School, Saitama Prefectural Kawagoe Girls' Senior High School, Kichijo Girls' School, Kyoritsu Girls' Junior and Senior High School, Sakaehigashi Junior and Senior High School, Shibuya Junior and Senior High School, Shoei Girls' Junior and Senior High School, Joshigakuin Junior and Senior High School, Senzoku Gakuen Junior and Senior High School, Tokyo Gakugei University Senior High School, Toshimagaoka-joshigakuen Junior and Senior High School, Futaba Junior and Senior High School