June 3, 2018 was a normal, lazy Sunday for many, but it was particularly exciting for 189 female high school students who spent the day at Tokyo Tech.
"A Day in the Life of a Tokyo Tech Student" is a program that invites high school students to experience a day of cutting-edge science and technology on Tokyo Tech's campus. Now in its fourth year, the program began as a volunteer-based activity to attract more girls to Tokyo Tech, and has since grown rapidly. This year, students from 18 participating schools* in the Tokyo metropolitan area — mainly girls but also a handful of boys — were joined by 17 teachers who arrived to observe the day's events.
After a friendly welcome from Executive Vice President for Education Tetsuya Mizumoto, the students jumped straight into their busy program for the day.
A Day in the Life of a Tokyo Tech Student
Lunch with Tokyo Tech students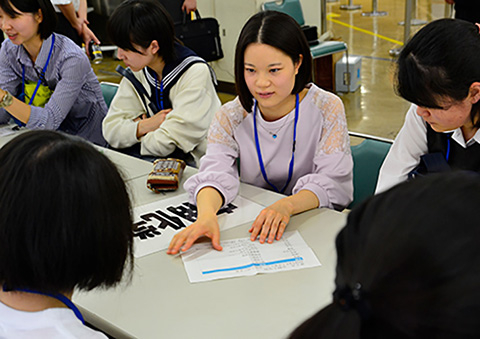 Tokyo Tech student sharing her experiences
Another engaging feature of the day was the long lunch break with current students at the Institute. A total of 51 Tokyo Tech students, who in the past had graduated from one of the 18 participating high schools, shared a meal with their younger counterparts while discussing the advantages of being at Tokyo Tech. The topics quickly turned to student club activities and other highlights of campus life.
The second half of lunch was a question and answer session where students could seek detailed information regarding their personal interests. The high school participants were grouped according to their specializations — science, mechanical engineering, electrical and electronic engineering, applied chemistry, computer science, life science, architecture, industrial engineering, or transdisciplinary engineering. There was also a separate group for those who did not yet know which direction they wanted to take.
In the post-event survey, 98 percent of the participants rated the lunchtime event, fully organized by Tokyo Tech students, as either "very good" or "good." Some high students even left personal messages for their new Tokyo Tech friends.
The chance to speak with a Tokyo Tech student who graduated from my high school was great — we spoke about school, university life, and a variety of other topics. I was able obtain details that are usually not available at general university information sessions.
We were able to speak about our specializations in small groups of three or four high school students and one university student, so it was very engaging.
Next year, I will do my best to fill your shoes!
Indeed, several youngsters who participated in A Day in the Life of a Tokyo Tech Student as high school students later entered the Institute and are now returning the favor by guiding new prospective students on their path. This kind of continuous peer support from one age group to the next is an important component of the Institute's high school-university collaborations.
* Urawa Akenohoshi Girls' Junior and Senior High School, Saitama Prefectural Urawa Daiichi Girls' High School, Oin Junior and Senior High School, Ohyu Gakuen Girls' Junior and Senior High School, Otsuma Junior and Senior High School, Ochanomizu University Senior High School, Saitama Prefectural Kawagoe Girls' Senior High School, Kichijo Girls' School, Kyoritsu Girls' Junior and Senior High School, Sakaehigashi Junior and Senior High School, Shibuya Junior and Senior High School, Shoei Girls' Junior and Senior High School, Joshigakuin Junior and Senior High School, Senzoku Gakuen Junior and Senior High School, Tokyo Gakugei University Senior High School, Toshimagaoka-joshigakuen Junior and Senior High School, Futaba Junior and Senior High School, Doremus School Junior High School and Senior High School