In its efforts to open up new fields of cutting-edge research and advance the Institute's position as a world research hub, Tokyo Tech launched the Organization for Fundamental Research (OFR) in July 2018. OFR will function as a place to nurture creative, spontaneous, responsible emerging researchers who are highly aware of societal expectations.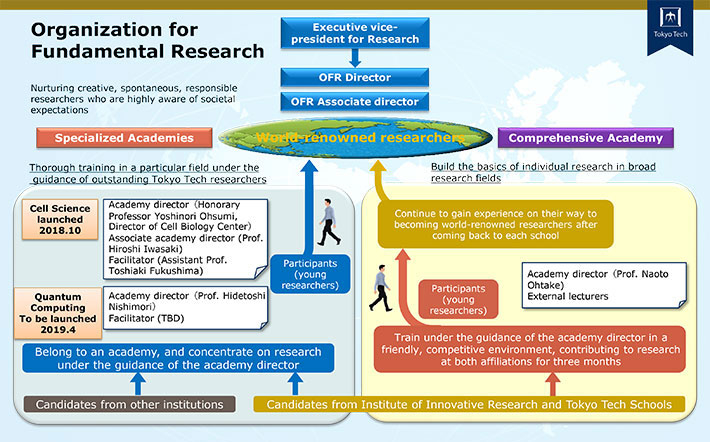 Currently, OFR consists of two academies. The Comprehensive Academy, which all participants join for at least three months, lays the foundations for individual research, but does not focus on any specific field. The Specialized Academy, which focuses on cell science, is headed by Honarary Professor Yoshinori Ohsumi, a world-leading researcher and Nobel Prize laureate.
One of Tokyo Tech's assertions in its successful application to become one of Japan's designated national universities

was to "adopt a long-term view on promoting an open research environment where emerging faculty members and researchers are encouraged and able to exercise divergent, creative thinking." The establishment of OFR, under the leadership of Director Fumio Koyama who also heads the Institute of Innovative Research (IIR), is an important step to realizing this commitment. An open lab space in the S2 Building on Suzukakedai Campus now functions as a key facility for OFR researchers.
Comments from Professor Koyama
For Japan to continue developing and remain globally competitive, young researchers and engineers are expected to apply their technical expertise and creativity to generate heightened societal impact. Tokyo Tech, through the Organization for Fundamental Research, hopes to provide an environment where such researchers can openly explore new challenges that allow them innovate and sow the seeds of future industries.
Specialized Academy
Cell Science
Academy director
Honorary Professor Yoshinori Ohsumi, Director of Cell Biology Center
This Specialized Academy aims to nurture outstanding researchers who will take the lead in the field of cell science in the future. Young talents have a place to formulate and test their hypotheses in a calm yet stimulating environment, allowing them to focus on basic research and approach new research topics in cell science through their own original academic interests.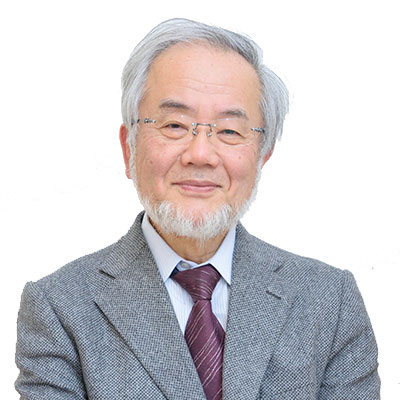 Comments from Honorary Professor Ohsumi
The Organization for Fundamental Research is one important way to strengthening the research prowess of Tokyo Tech, and the Specialized Academy aims to prepare young talents for research success in the future. This academy, which concentrates on the study of cell science, includes 13 members — five assistant professors and six specially appointed assistant professors from the Cell Biology Center, and two assistant professors from the School of Life Science and Technology. As the facilitator, I hope we can create an environment where people actively collaborate and where young researchers can openly engage in research.
The launch of a second Specialized Academy, led by IIR Professor and Quantum Computing Unit leader Hidetoshi Nishimori, is planned for next year.
Comprehensive Academy
Academy director
Professor Naoto Ohtake, IIR
The Comprehensive Academy allows emerging researchers to spontaneously explore research topics not limited to any particular field based on their academic interests. It offers a place for researchers to understand the importance of research progress in view of societal expectations while strengthening Tokyo Tech's position as a research-focused university that trains highly skilled professionals.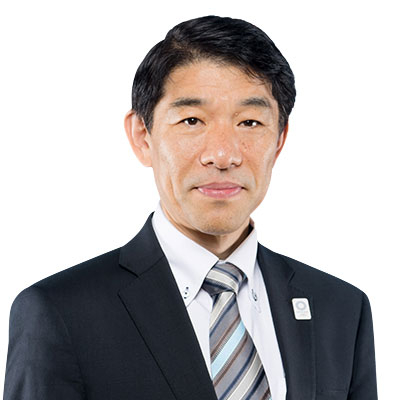 Comments from Professor Ohtake
For a researcher, having enough time to think critically about a research topic is extremely important. The Comprehensive Academy offers emerging researchers a place to consider carefully what they want to do, to imagine the challenges that await them, and to perceive the future of science and technology while drawing upon the achievements of past researchers. I welcome all students and emerging research talents to consider joining the Comprehensive Academy as it kicks off its activities in 2019.