2017 Tokyo Tech Award for Student Leadership
Recipients of the Tokyo Tech Award for Student Leadership for the 2017 academic year were acknowledged on October 25. Awarded every year since 2002 to 2nd-, 3rd-, and 4th-year undergraduate-level students with extraordinary intellect, humanity, creativity, and energy, the award aims to encourage highly motivated students to continue with their studies and work towards becoming global leaders.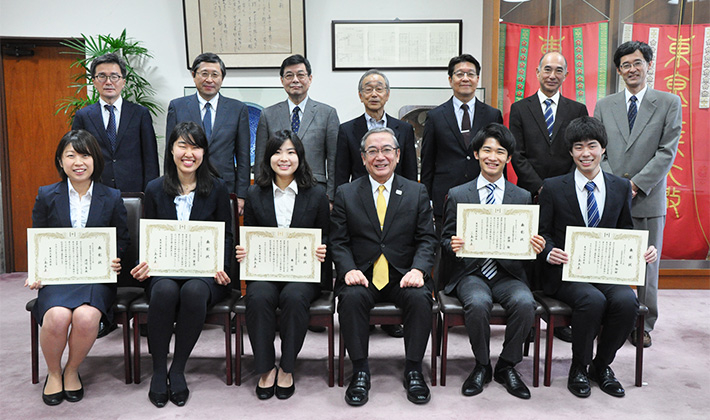 At the ceremony, President Yoshinao Mishima awarded the students with their certificates and prizes. After the formalities, the recipients discussed their achievements and future plans with the president, executive vice presidents, and deans.
2017 Tokyo Tech Award for Student Leadership recipients and award-winning activities
Tomoki Furuhashi
4th year, Chemical Engineering

Activities of ToiTech, development and propagation of a non-electric water spray for toilets
IDAcademy activities

Shun Iwase
4th year, Electrical and Electronic Engineering

Georgia Tech leadership program activities
Development of Walky, a smart handheld device, by Tokyo Institute of Technology Advertisement and Media Art Society (TITAMAS)

Ouran Qin
4th year, International Development Engineering

Overseas training activities in Global Scientists and Engineering Course
Tokyo Tech International Students Association (TISA) activities

Hazuki Hasegawa
3rd year, Bioscience

Gold medal at the International Genetically Engineered Machine Competition (iGEM) in 2016
Tokyo Tech BioCon and Advanced BioCon winner
Student Survey activities

Mao Watanabe
2nd year, Transdisciplinary Science and Engineering

Presentation at the Japan Society of Material Cycles and Waste Management
Student Association for Global Exchange (SAGE) and Encouragement Project for All Tokyo Tech Students (EPATS) activities