6th Bioscience and Biotechnology International Symposium
Date

Wednesday, January 10, 2018
Time

13:00 - 18:30
Venue

Tokyo Institute of Technology Suzukakedai Campus H1 & H2 Bldgs. (Suzukake Hall)
Registration Fee

Free
Notes

Jointly organized by Tokyo Institute of Technology, School of Life Science and Technology, and Education Academy of Computational Life Sciences
How to apply

No advanced registration required. Please register on site.
Contact

4259 Nagatsuta, Midori, Yokohama 226-8501, Japan
Hitoshi Nakatogawa, Kazushi Kinbara
E-mail bbis2018@bio.titech.ac.jp
Speakers
Invited Speakers
Simon Webb (Univ of Manchester) [vesicles, supramolecular chemistry]
Li Yu (Tsinghua Univ) [mammals, migracytosis]
Tsutomu Hamada (JAIST) [vesicles, soft matter physics]
Noboru Mizushima (Univ of Tokyo) [mammals, autophagy]
Shoji Takeuchi (Univ of Tokyo) [lipid bilayers, biohybrid sensors]
Tokyo Tech Speakers
Atsushi Maruyama (School of Life Science and Technology, Tokyo Tech) [vesicles, polymer chemistry]
Mie Shimojima (School of Life Science and Technology, Tokyo Tech) [plant, membrane lipid remodeling]
About the Bioscience and Biotechnology International Symposium
The main purpose of the symposium is to provide a platform for young researchers and students to engage in cross-disciplinary discussions on leading edge scientific topics to shear new results and ideas. In particular, it will be our pleasure if this symposium provides young researchers with a window of opportunity to obtain new perspectives on their own research works through such interdisciplinary discussion, and contributes to the development of new scientific fields and the fostering of future generations of leaders.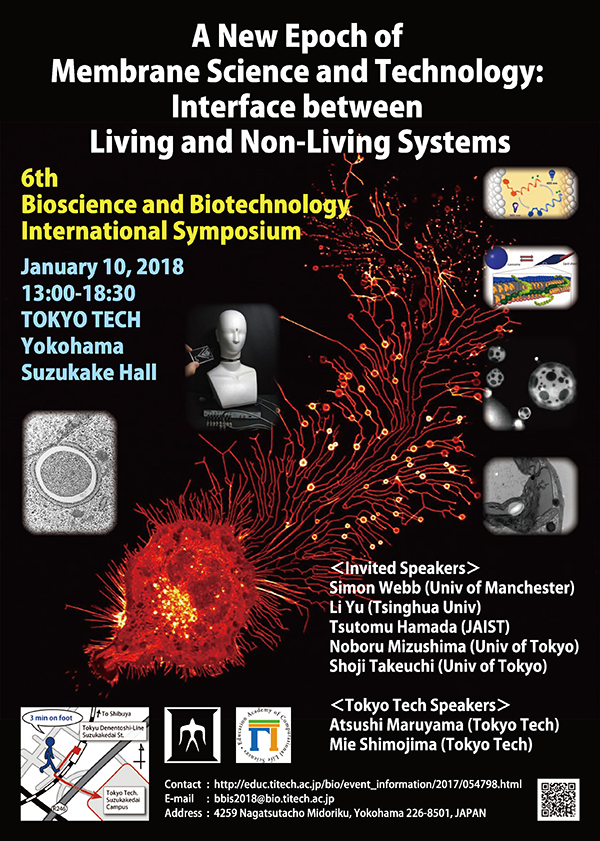 Update : November 22, 2017