Associate Professor Shinsuke Inagi receives 2016 MEXT Young Scientists' Prize
Associate Professor Shinsuke Inagi received the Young Scientists' Prize in the 2016 Commendation for Science and Technology by the Minister of Education, Culture, Sports, Science and Technology.
To be eligible for consideration, candidates must be individuals under 40 years of age whose research and development exhibit uniqueness, highly advanced ability, and exceptional merit. The eight Tokyo Tech recipients spoke about their work.
Prize-winning research: Development of polymeric materials based on electron transfer on electrodes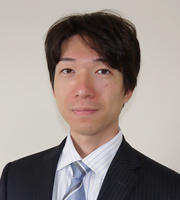 Demand has been increasing for light and flexible organic materials for use in electronics. In particular, development of methods for the achievement of new molecular design and function is required. Since I joined the faculty at Tokyo Tech, I have been interested in organic electrode reactions utilizing electrons as reagents, and have pursued post-functionalization of polymers via electron transfer on electrodes. I also developed an innovative method of controlling the distribution of electric potential and transferring it to polymer films, which paved the way for creating function-gradient surfaces.
It is a great honor for me to receive this award, and I would like to express my heartfelt gratitude to my research partners, students, and the many others engaged in this research both at Tokyo Tech and elsewhere. I would also like to express my appreciation to Tokyo Tech for the financial assistance.