The World Research Hub Initiative (WRHI), a part of the Tokyo Tech Institute of Innovative Research, invites leading researchers from around the world to participate in our interdisciplinary research hub, thereby facilitating international collaborative research.
The WRHI held an online symposium on the 10th of November to mark four years since the establishment of the program. During the symposium, the activities and achievements of the WRHI were outlined, and we discussed how our program actively and effectively supports international research that addresses problems facing society, including the ongoing COVID-19 pandemic. The symposium included keynote talks introducing internationalization activities underway at Kyoto and Tohoku Universities, and a panel discussion including international researchers participating in the WRHI program was also held.
We received nearly 300 registrations for the symposium, and viewers from around the world participated on the day in spite of time zone differences. This symposium allowed us to continue our efforts to build up a global network, even during this period of restricted travel.
Following introductory remarks from Tokyo Tech President Kazuya Masu and Director-General of the Japanese Government Research Promotion Bureau Tsuyoshi Sugino, Institute of Innovative Research Director Toru Hisabori described the Institute's activities. WRHI Steering Committee Chairman Masaki Azuma then gave an overview of the WRHI program.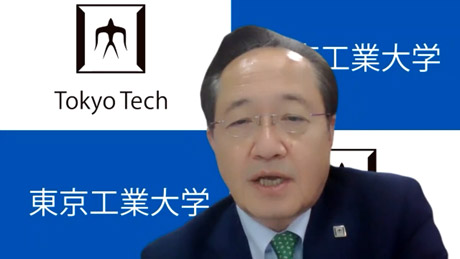 Tokyo Tech President Masu delivering introductory remarks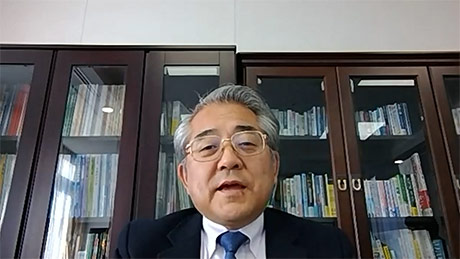 Research Promotion Bureau
Director-General Tsuyoshi Sugino
The keynote speeches were delivered by Tadashi Furuhara (Director, Institute for Materials Research, Tohoku University) and Toshiharu Teranishi (Professor, Institute for Chemical Research, Kyoto University), who introduced the internationalization efforts underway at their universities.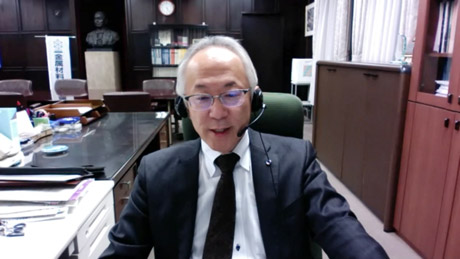 Director Tadashi Furuhara of the Institute for Materials
Research, Tohoku University gives his keynote lecture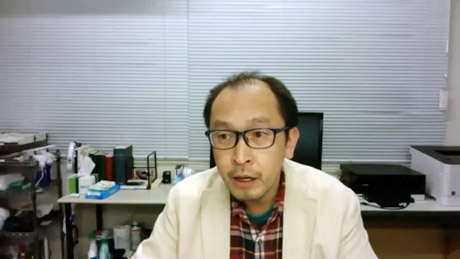 Professor Toshiharu Teranishi of the Institute for Chemical
Research, Kyoto University gives his keynote lecture
In addition, four researchers representing the WRHI satellite labs, which we set up to conduct particularly focused research, described their work in talks broadcast from around the world.
(Prof. Shlomo Havlin) (Prof. Misako Takayasu) (Dr. Bradley L. Pentelute) (Prof. Anne Zehnacker-Rentien)
Following these presentations, a panel discussion was held to discuss 'Overcoming the COVID-19 pandemic to build a global research hub.' In this session, researchers actually taking part in the WRHI program exchanged ideas. How can we in Japan encourage international collaboration? The refreshing perspective of international researches spurred a lively and informative debate.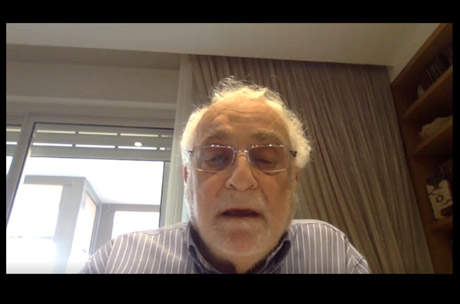 Specially Appointed Professor
Shlomo Havlin's pre-recorded lecture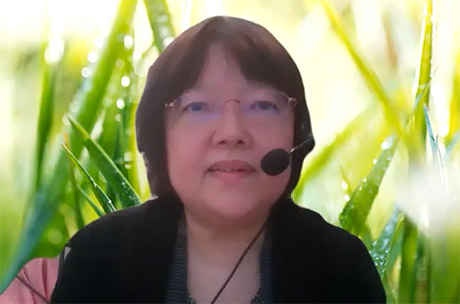 Prof. Misako Takayasu participating in the online symposium
In closing remarks, Executive Vice President for Research at Tokyo Tech Osamu Watanabe highlighted the importance of interpersonal exchange as a central plank of research internationalization. In order to continue our support for cutting-edge international research, we hope that many researchers will take part in the framework established by the WRHI. We are developing new and additional ways of supporting research during and after the COVID-19 pandemic and look forward to continuing working with you into the future.