Aikido Club wins multiple awards at 37th national competition
Tokyo Tech's Aikido Club has won bronze in the group category and gold in the individual category at the 37th All Japan Shinshin Toitsu Aikido Taigi Competition. The winning pair in the latter category consisted of 3rd-year Life Science and Technology student Shotaro Inoue and 2nd-year Electrical and Electronic Engineering student Yudai Yamazaki.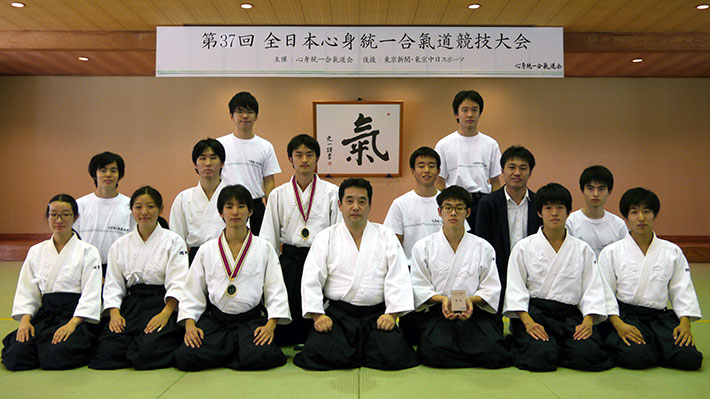 Held in Tochigi Prefecture's Haga district on September 23, this year's competition was attended by 113 middle school, high school, and university students.
Comments from club captain Shotaro Inoue
We followed up last year's group victory with individual golds this year, and I am very pleased about that. A big shout-out goes to all the club members and alumni, and of course Master Hideo Ohara. I would also like to dedicate this result to our previous mentor, Master Yutaka Otsuka, who guided the club for so many years.
The Tokyo Tech Aikido Club is celebrating its 50th anniversary this year. We will continue working hard as a unified team and look forward to everyone's continued support.
Shotaro Inoue is a 3rd-year Life Science and Technology student specializing in biology. He hopes to utilize the psychological tranquility he has achieved through aikido training in his studies and research.
Tokyo Tech Aikido Club
The Tokyo Tech Aikido Club, established in 1968, celebrates its 50th anniversary in 2018. Members have training sessions four days a week and receive instruction from Master Ohara, 7th dan, once a week. By activating the mind and body as one, the club trains with the goal of "respecting and guiding the mind of the opponent."