【Labs spotlight】 Suzuki Laboratory
Breaking genetic codes in neuronal circuit
The Department has a variety of laboratories for Life Science and Technology, in which cutting-edge innovative research is being undertaken not only in basic science and engineering but also in the areas of medicine, pharmacy, agriculture, and multidisciplinary sciences.
This "Spotlight" series features a laboratory from the Department and introduces you to the laboratory's research projects and outcomes. This time we focus on Suzuki Laboratory.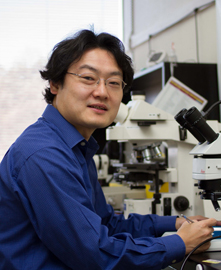 Life Science and Technology
Associate Professor Takashi Suzuki

Research findings
Selected publications
Activity-dependent synaptic plasticity

1.

Sugie A, Hakeda-Suzuki S, Suzuki E, Silies M, Shimozono M, Mohl C, Suzuki T*, Tavosanis G*.(2015) Molecular Remodeling of the Presynaptic Active Zone of Drosophila Photoreceptors via Activity-Dependent Feedback. Neuron. 2015 May 6;86(3):711-25. (2015)

2.

Berger-Muller, S., Sugie, A., Takahashi, F., Tavosanis, G., Hakeda-Suzuki, S., Suzuki, T. Assessing the role of cell-surface molecules in central synaptogenesis in the Drosophila visual system. PLos One. Dec 26;8(12):e83732 (2013)

Axon guidance and synaptic-layer targeting

3.

Mann, K., Wang, M., Luu, S-H., Ohler, S., Hakeda-Suzuki, S., Suzuki, T. A putative tyrosine phosphorylation site of the cell surface receptor Golden goal is involved in synaptic layer selection in the visual system. Development Feb;139(4):760-71 (2012)

4.

Hakeda-Suzuki, S.*, Berger-Mueller, S.*, Usui, T., Horiuchi, S., Uemura, T., Suzuki, T. Golden Goal Collaborates with Flamingo in Conferring Synaptic-Layer Specificity in the Visual System. Nature Neuroscience 3:314-24 (2011)

5.

Ohler, S., Hakeda-Suzuki, S., Suzuki, T. Hts, the Drosophila homologue of Adducin, physically interacts with the transmembrane receptor Golden goal to guide photoreceptor axons. Developmental Dynamics 240: 135-148. (2011)

6.

Berger J, Senti K, Senti G, Newsome T, Asling B, Dickson BJ, Suzuki T. Systematic Identification of Genes that Regulate Neuronal Wiring in the Drosophila Visual System. PLoS Genetics 4(5): e1000085.doi:10.1371/ journal.pgen.1000085 (2008)

7.

Tomasi, T.*, Hakeda-Suzuki, S.*, Ohler, S., Schleiffer, A., Suzuki, T. The transmembrane protein Golden Goal regulates R8 photoreceptor axon-axon and axon-target interactions. Neuron 57: 691-704 (2008)

8.

Maurel-Zaffran C*, Suzuki T*, Gahmon G, Treisman JE, Dickson BJ. Cell-Autonomous and -Nonautonomous Functions of LAR in R7 Photoreceptor Axon Targeting. Neuron 32: 225-235 (2001)

9.

T Berger J*, Suzuki T*, Senti K-A, Stubbs J, Schaffner G, Dickson BJ. Genetic mapping with SNP markers in Drosophila. Nature Genetics 29: 475-481 (2001)
*Find more about the lab and the latest activities at the lab site

.