Cell Biology Center Colloquium 0054
Date

Monday, November 18, 2019
Time

13:20 - 14:50
Venue

Suzukakedai Campus, Tokyo Institute of Technology
Building S2, 2F Meeting room
Contact

Cell Biology Center, Institute of Innovative Research

Takeshi Shimi

E-mail : shimi.t.aa@m.titech.ac.jp

or

Hiroshi Kimura

E-mail : hkimura@bio.titech.ac.jp
Program
Speaker

Masashi Narita

Title

'Senescence lifecycle' in cancer and ageing

References

Chan ASL, Narita M. Short-term gain, long-term pain: the senescence life cycle and cancer. Genes Dev. 2019 Feb 1;33(3-4):127-143. doi: 10.1101/gad.320937

Cassidy LD et al. A novel Atg5-shRNA mouse model enables temporal control of Autophagy in vivo. Autophagy. 2018;14(7):1256-1266. doi: 10.1080/15548627.2018.1458172.

Parry AJ et al.NOTCH-mediated non-cell autonomous regulation of chromatin structure during senescence. Nat Commun. 2018 May 9;9(1):1840. doi: 10.1038/s41467-018-04283-9.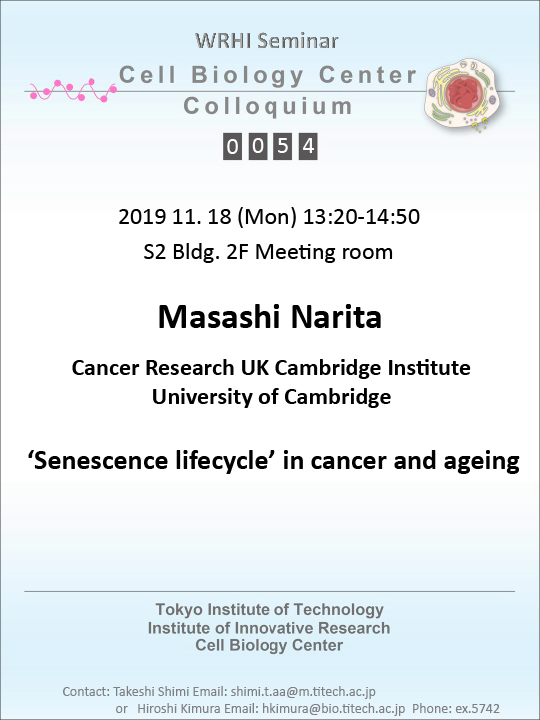 Update : November 11, 2019