Cell Biology Center Colloquium 0046
Date

Friday, December 21, 2018
Time

16:00 - 17:00
Venue

Suzukakedai Campus, Tokyo Institute of Technology
Building S2, 7F meeting room
Contact

Hiroshi Kimura
Cell Biology Center, Institute of Innovative Research
Email : hkimura@bio.titech.ac.jp
There will be two seminars (Cell Biology Colloquium). See also the attached files.
Everyone is welcome!
Program
Lecturer

Koh Fujinaga (UCSF, San Francisco, USA)

Title

HIV Transcription and Beyond

Reference

1.

HEXIM1-Tat chimera inhibits HIV-1 replication.
Leoz M, Kukanja P, Luo Z, Huang F, Cary DC, Peterlin BM, Fujinaga K.
PLoS Pathog. 2018 Nov 5;14(11):e1007402.

2.

Bromodomain-containing protein 4-independent transcriptional activation by autoimmune regulator (AIRE) and NF-κB.
Huang F, Shao W, Fujinaga K, Peterlin BM.
J Biol Chem. 2018 Apr 6;293(14):4993-5004.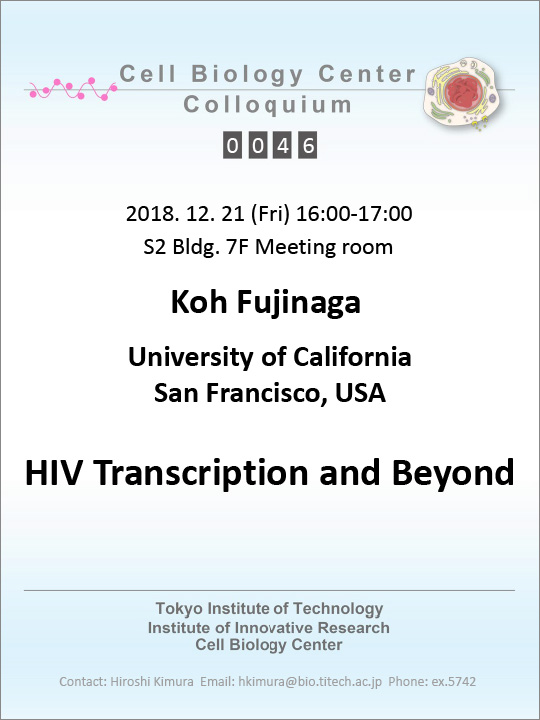 Update : December 10, 2018