The 20th Biocatalysis Symposium of Japan
Date

Wednesday, December 12 - Thursday, December 13, 2018
Time

Wednesday, December 12 11:30 - / Thursday, December 13 9:00 - 17:20
Contact

Department of Life Science and Technology Tomoko Matsuda
J3-5, 4259 Nagatsuta-cho, Midori-ku, Yokohama, Japan, 226-8501
Tel/Fax: +81 (45)-924-5757
E-mail : tmatsuda@bio.titech.ac.jp

For abstract submissions, please contact our dedicated submission
E-mail : biocatjapan2018@bio.titech.ac.jp
The 20th Biocatalysis Symposium of Japan will provide you the latest research about organic synthesis using enzyme.
We are welcoming all scientists and the public interested in biocatalysis field—not only for organic chemistry researchers, but also for those who are working in biology field.
With 5 prominent international scientists from industry and academe, the cutting-edge research about biocatalysis will be featured.
There will be a lecture from Codexis by Dr. Entwistle, a company representing US in an applied study of the Nobel Prize in Chemistry in 2018 "directed evolution of enzymes".
Moreover, the discussion with Prof. Kazlauskas about the Nobel Prize will be fruitful.
It will be held at Tokyo Tech Suzukakedai Campus, located in Yokohama, just around 60 minutes from Tokyo by train.
Registration
Register for presentation and/or participation from here

Overview
Important Dates
Friday, October

5

19

Registration deadline for presentation (oral/poster)

Friday, October

12

19

Abstract submission deadline

Friday, November 9

Registration deadline for participant

About Registration Fee

*The registration fee for student without presentation is free, but mixer fee and after-party are necessary. The registration fee covers a printed abstract book and coffee breaks during the conference. The mixer fee is excluded from registration fee.

Payment Methods

1.

Bank Transfer

Presenters and participants wishing to pay via bank transfer can transfer sufficient fee to:

Bank: Mizuho Bank
Branch Name: Nagatsuta (長津田支店366)
Account No.: 普通 1819528
Account Name: Dai20kaiseitaishokubaikagakusinpojiumu
(第20回生体触媒化学シンポジウム (ダイ20カイセイタイショクバイカガクシンポジウム))

Please write down "Biocat-Japan-2018-Registration-your name" on "note" column in your transfer.

All handling fees or other surcharges should be paid by the registrants.

A notification e-mail will be sent after we validated your payment.
2.

On the Spot Payment
We accept only cash in Japanese Yen. Please have foreign currency exchanged beforehand.
Presenters and participants already registering before November 9 can also pay directly on the spot at December 12 with early bird registration fee.
Program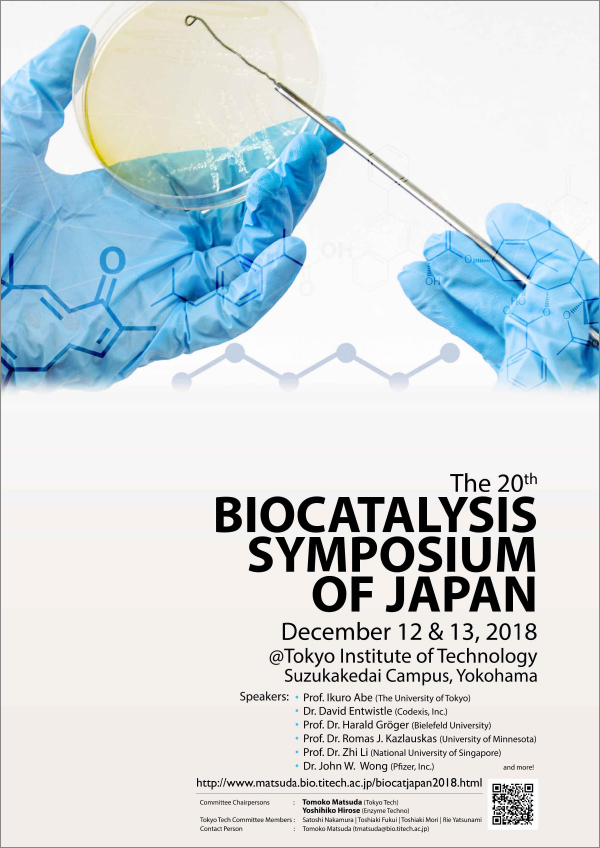 Update : November 26, 2018