5th Bioscience and Biotechnology International Symposium
Date

Wednesday, January 11, 2017
Time

13:00 - 18:30
Venue

Tokyo Institute of Technology Suzukakedai Campus H1 & H2 Bldgs. (Suzukake Hall)
Registration Fee

Free
Notes

Jointly organized by Tokyo Institute of Technology, School of Life Science and Technology, and Education Academy of Computational Life Sciences
Cosponsored by The Chemical Society of Japan, and others
How to apply

No advanced registration required. Please register on site.
Contact

4259 Nagatsuta, Midori, Yokohama 226-8501, Japan
Junji Hirota, Takashi Suzuki
E-mail bbis2017@bio.titech.ac.jp
Speakers
Invited Speakers
Thomas Clandinin (Stanford University, USA) [fly, sight]
Paul Feinstein (Hunter College, USA) [mouse, smell]
Atsushi Miyawaki (RIKEN BSI) [fluorescent molecular sensor]
Kiyoshi Toko (Kyushu University) [artificial taste sensor]
Yoshihiro Yoshihara (RIKEN BSI) [zebrafish, smell]
Tokyo Tech Speakers
Takamichi Nakamoto (Institute of Innovative Research, Tokyo Tech) [artificial odor sensor]
Hiroshi Ueda (Institute of Innovative Research, Tokyo Tech) [antibody sensor]
About the Bioscience and Biotechnology International Symposium
The main purpose of the symposium is to provide a platform for young researchers and students to engage in cross-disciplinary discussions on leading edge scientific topics to shear new results and ideas. In particular, it will be our pleasure if this symposium provides young researchers with a window of opportunity to obtain new perspectives on their own research works through such interdisciplinary discussion, and contributes to the development of new scientific fields and the fostering of future generations of leaders.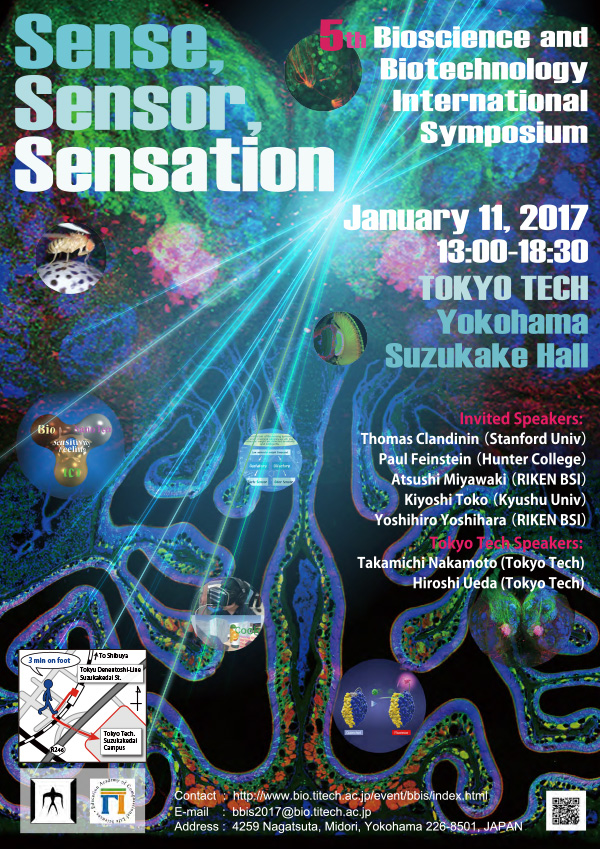 Update : December 8, 2016