Preventing information leakages with cryptography
Haruna Higo
Security Research Laboratories
NEC Corporation, Japan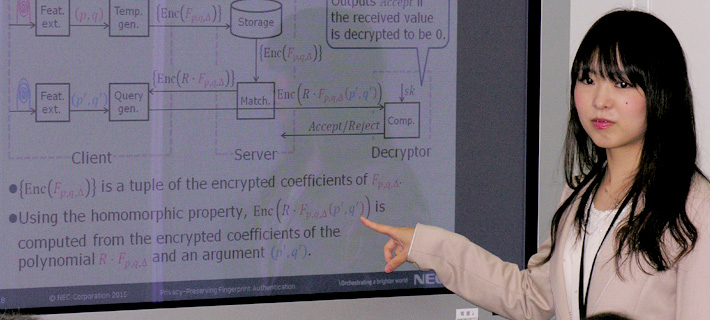 Please tell us about your current job (responsibilities, challenges, rewards, etc.).

I carry out research on cryptography at the R&D unit in NEC Corporation. While I worked on theoretical research in the field of cryptography at Tokyo Tech, I now focus more on real-life applications. I am particularly interested in what is called secure computation, which refers to methods for carrying out computation on encrypted data. With the need to protect personal and confidential information increasing, the demand for such technologies is also expected to grow. I recently achieved a research accomplishment on biometric authentication systems that prevent the leakage of biometric information. During my second year at NEC, my paper about this result was accepted for presentation at a prestigious international conference.
How is the knowledge and experience gained at Tokyo Tech being utilized in your current position?

During my undergraduate studies, I gained plenty of mathematical, statistical, and computer-related knowledge. When I joined a lab in my fourth year, I decided to focus on cryptography, a research area which I knew little about when I entered Tokyo Tech. I continued my research in the same area in graduate school, and still research this field in my current job. The expertise in cryptography and experience as a researcher I gained at my lab is of use, and the abundant advice I received from Associate Professor Keisuke Tanaka and my fellow researchers regarding paper writing and presentations has also been invaluable. Tanaka once told me that if you want to provide a presentation that is understood by your audience, it is best to be service-minded. His words come back to me time and again.
What are your future goals?

I have been conducting research on cryptography since my college days, but I still feel a lack of knowledge and experience. As we never know what kind of technology will be required in the future, I feel it important to stay up to date with the latest research and social demands as well as to remain flexible. In the near future, I will hopefully achieve lots of research results that respond to such demands and also receive scholarly attention.
Please write a message to students aiming for Tokyo Tech.

At Tokyo Tech, you can choose your direction of study as you enter a department in your second year, meaning you can focus on the academics and research projects that really interest you. I explored many possibilities before making any commitments, and selected what interested me the most. That field, cryptography, became a profession in my case. The number of people at each Tokyo Tech lab is relatively low, so you are in close proximity with your academic supervisors and fellow researchers. This means that you can constantly get research guidance from the people around you, which will be of great advantage to you.
Haruna Higo (from Tokyo, Japan)
2014

Employed by NEC Corporation
2014

Master of Science, Department of Mathematical and Computing Sciences, Tokyo Institute of Technology
2012

Bachelor of Science, Department of Mathematical and Computing Sciences, Tokyo Institute of Technology
2008

Enrolled in 1st Academic Group, Tokyo Institute of Technology
The content of this article was accurate at the time of the interview.