Tokyo Tech's Team Tsubame, consisting of Yoshiki Nakamura, Yutaro Watanabe, and Ryota Tezuka, all 1st-year master's students in Industrial Engineering and Economics, have won the Future Creation Award at the 12th Digital Innovators Grand Prix (DIG) on March 13.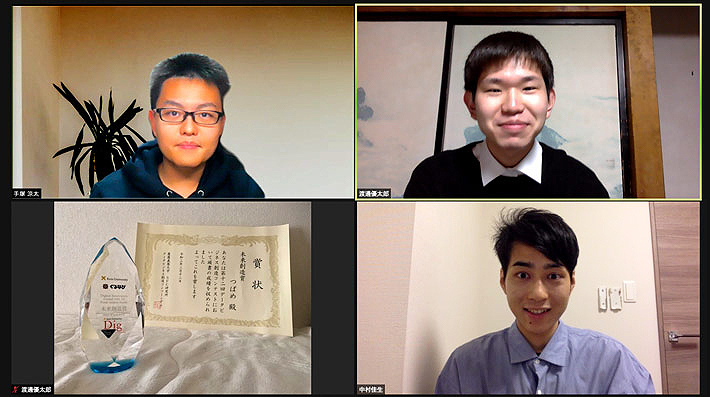 DIG, sponsored by the Data management creation Laboratory of the Keio Research Institute at SFC and held since 2014, is a data business contest for high school, technical college, and university students. It aims to develop data science professionals while encouraging youngsters to extract new knowledge and value from vast amounts of data.
This year's contest, Food makes Smile, focused on the creation of new value in the hard-hit restaurant industry. Teams were granted access to browsing and reservations data on the Gurunavi website, a large online restaurant guide operated by Gurunavi Inc. After 80 initial applications, 50 teams advanced to the preliminary stage and 10 were selected for the online finals. Finalists were judged based on five factors —utilization of shared data, original data collection, data analysis, implementation and continuity, and novelty of the proposal — by Professor Jun Murai, director of the Data management creation Laboratory, and 13 other judges.
Team Tsubame's double proposal
Team Tsubame's proposal, which consisted of two components, offered a V-shaped post-COVID-19 recovery strategy for the Gurunavi restaurant guide website. After analyzing provided and collected data, the team proposed that the website resell cancelled reservations to other consumers at discounted prices, potentially decreasing disruptions caused by cancellations. They also suggested a "second stop recommendation service." By utilizing information from the initial reservation and the unique characteristics of the user, this service would recommend restaurants or bars where the customer could enjoy an after-party, digestif drinks, or the like after visiting the first establishment. Team Tsubame were lauded particularly for the novelty of their proposal, which earned them the Future Creation Award.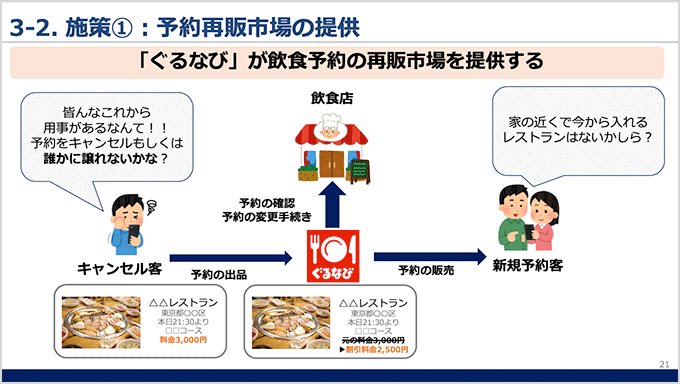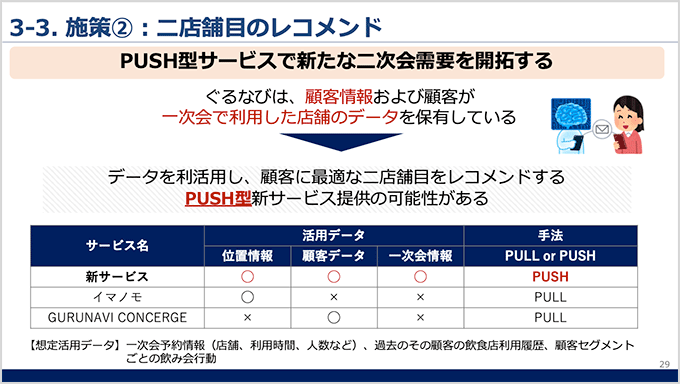 Comments from Team Tsubame
Our team members are extremely pleased to receive the Future Creation Award in this contest. Based on data and evidence, we were able to put forth a proposal that offers new value to the restaurant industry, which has suffered due to the spread of COVID-19. The Department of Industrial Engineering and Economics has provided us with knowledge and experience in areas such as statistics and programming, as well as the ability to identify and provide solutions to socio-economic issues, all of which proved very useful during the contest. This was an excellent experience, and we are grateful to all those who shared with us their advice and support.