Reina Shimizu received Best Paper Runner-up Award at ICSR 2020
The 12th International Conference on Social Robotics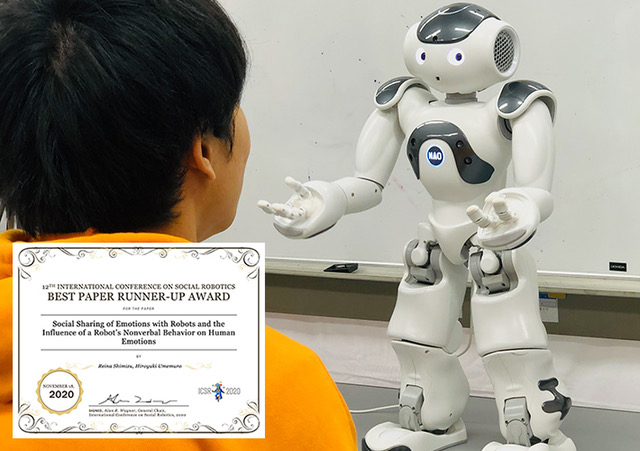 Reina Shimizu, a former master's student with a graduate major in Industrial Engineering and Economics and current employee of ABeam Consulting Ltd. presented a paper based on her thesis work at the 12th International Conference on Social Robotics (ICSR 2020). Her paper won the Best Paper Runner-up Award at the conference.
・Authors:

Reina Shimizu, Hiroyuki Umemuro

・Title:

Social Sharing of Emotions with Robots and the Influence of a Robot's Nonverbal Behavior on Human Emotions

・Conference:

The 12th International Conference on Social Robotics, Golden, Colorado, U.S.A., Nov. 14-16, 2020.

・Paper published as:

Lecture Notes on Artificial Intelligence 12483, pp. 308-319, Springer
In social psychology, it is known that when people have a good or bad emotional experience, their emotions may change for the better when they talk to other people about that experience. This is called "social sharing of emotions."
Ms. Shimizu's research indicates that social sharing of emotions with robots may also lead to positive changes in the emotions of the sharer. This result implies that in the future robots and agents may play a role as listeners to enhance people's emotional experiences, which may have a wide range of possible applications, from those for children to those for the elderly.