From July 9 to 15, 2017, Executive Vice President Toshio Maruyama and a delegation that included Vice President Hidetoshi Sekiguchi, School of Life Science and Technology Dean Hisakazu Mihara, who teaches Life Science and Technology, and School of Environment and Society Professor Miki Saijo attended ASPIRE Forum 2017 at Nanyang Technological University (NTU, Singapore).
Tokyo Tech is a founding member of the ASPIRE League1, which includes Tsinghua University (Tsinghua) in China, Korea Advanced Institute of Science and Technology (KAIST), Hong Kong University of Science and Technology (HKUST), and NTU, Singapore. Organized annually, the ASPIRE Forum brings together member university representatives, including vice presidents, faculty and staff members, and students to exchange information on collaborative activities among League members and to share updates on each university's latest activities and research. A total of 62 participants attended ASPIRE Forum 2017, which focused on the theme "Sustainable and Liveable Cities."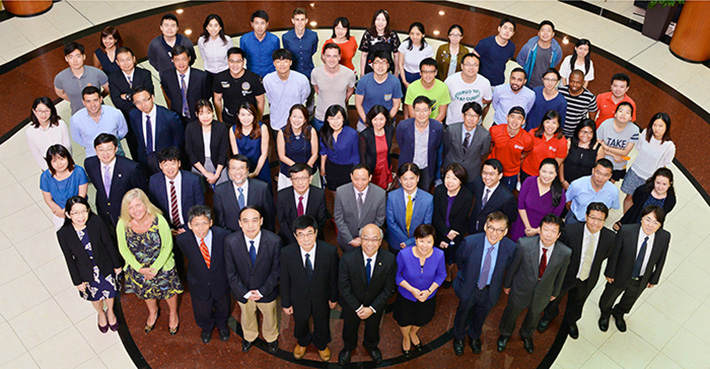 Vice Presidents and Senior Staff Meeting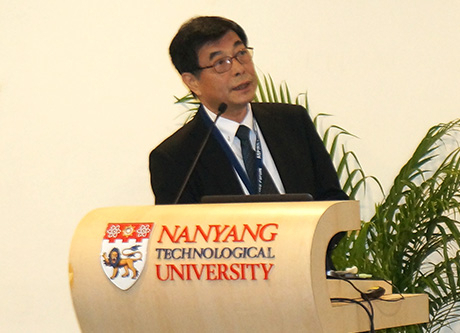 Tokyo Tech representatives at ASPIRE Forum 2017 updated attendees on recent activities and research at the Institute through presentations at the Vice Presidents and Senior Staff Meeting.
ASPIRE Symposium
Professor Takayuki Aoki of Tokyo Tech's Global Scientific Information and Computing Center and Professor Takafumi Ueno of the School of Life Science and Technology, who teaches Life Science and Technology, served as speakers in the ASPIRE Symposium.
Introduction of research activities using Tokyo Tech's supercomputer TSUBAME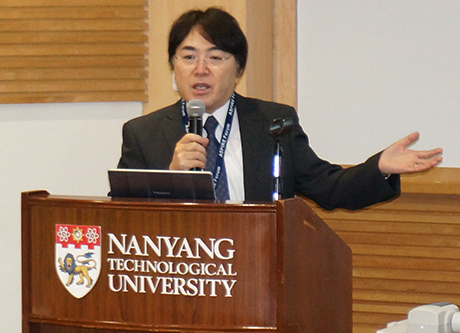 In a presentation titled "Green Supercomputer TSUBAME and Large-scale Application on Computational Fluid Dynamics", Aoki described the features of the supercomputer TSUBAME 3.0. Operated by Tokyo Tech's Global Scientific Information and Computing Center, the updated supercomputer was ranked most energy-efficient by the Green500 List in June 2017. Aoki highlighted various examples of TSUBAME's large-scale applications, including ultra-high resolution airflow simulation in metropolitan Tokyo, fluidized bed and violent gas-liquid two-phase flow simulations, and tsunami simulations used to predict possible damage to structures.
Collaborative research supported by the Institute
Since 2011, Tokyo Tech has supported collaborative research among ASPIRE League member universities by providing grant funding under which faculty members of Tokyo Tech, serving as principal researchers, lead joint projects with researchers from ASPIRE League member universities.
Ueno reported on collaborative research on "Functional Design of Protein Cage for Sustainable Biomaterial", a project supported through the ASPIRE League Research Grant in FY 2017. The interdisciplinary project group — which includes co-researchers Professor Guang Zhu of HKUST, Professor Yoon Sung Nam of KAIST, Professor Diannan Lu of Tsinghua, and Professors Sierin Lim and Kelin Xia of NTU, Singapore — aims to design and construct new types of sustainable protein cages conjugated with inorganic compounds for medical and bio-nano-applications.
Student Workshop
Including the five master's and doctoral students representing Tokyo Tech, a total of thirty students from ASPIRE member universities and counterparts from Europe's IDEA League2 participated in the ASPIRE Forum's weeklong Student Workshop, which was also organized around the theme of "Sustainable and Liveable Cities." Participants attended lectures taught by NTU, Singapore faculty members and other experts and participated in site visits to REC Singapore, NEWater, and the Rolls-Royce plant in the city-state. They also worked in groups of six to develop technology-based proposals to support development of sustainable and livable cities.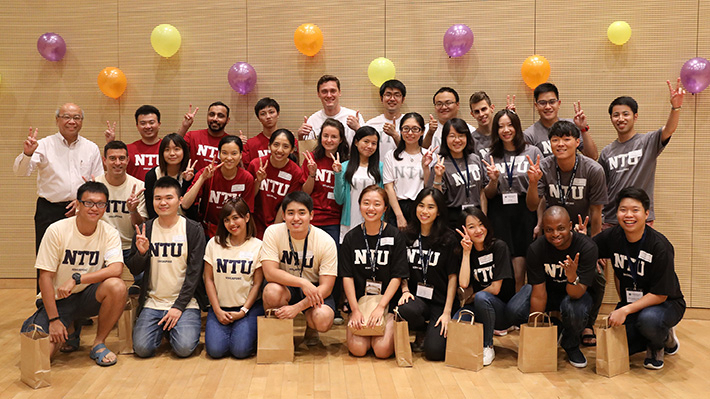 The Student Workshop week culminated in the students' group presentations to the vice presidents attending the ASPIRE Forum. Tokyo Tech student Takumi Ohashi, a second-year doctoral student in electronics and applied physics, was among the students recognized for the best group presentation.
To provide improved thermal comfort for people living in tropical Singapore, and to address problems such as high energy consumption and emission of greenhouse gases, Ohashi's group proposed technologies that could be included in smart grid infrastructure. To generate, manage, and efficiently utilize renewable energies, they suggested use of an integrated system of multi-port integrated power electronics converters, or "energy WiFi" smart devices that harness energy expended in people's daily activities, and autonomous smart windows that can regulate interior lighting and temperatures while harnessing solar energy.
Ohashi remarked, "We had an amazing week in a great atmosphere that was both fun and educational. Having developed connections to students with diverse backgrounds, I returned home confident in my ability to work with others on the world stage."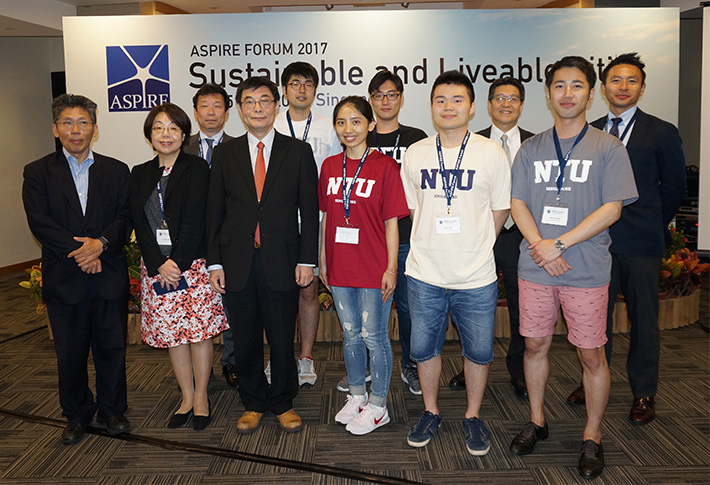 ASPIRE Forum 2018 is planned to be held at NTU, Singapore in July 2018.
A consortium of five leading science and technology universities in Asia, the ASPIRE League aims to form a hub for innovation in the region through the advancement of science and technology and the development of human resources.
A consortium comprising five science and technology universities in Europe: Delft University of Technology (TU Delft) in the Netherlands, Swiss Federal Institute of Technology, Zurich (ETH Zurich), RWTH Aachen University in Germany, Chalmers University of Technology in Sweden, and Politecnico di Milano in Italy.