The Department has a variety of laboratories for Life Science and Technology, in which cutting-edge innovative research is being undertaken not only in basic science and engineering but also in the areas of medicine, pharmacy, agriculture, and multidisciplinary sciences.
This "Spotlight" series features a laboratory from the Department and introduces you to the laboratory's research projects and outcomes. This time we focus on Murakami Laboratory.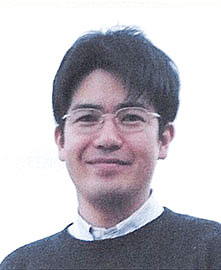 Life Science and Technology
Professor Satoshi Murakami

| | |
| --- | --- |
| Degree | PhD 1997, Osaka University |
| Areas of Research | Structural Biology, Protein crystallography |
| Keywords | Membrane Protein, Membrane Transport, Drug Efflux, Drug Resistance |
| Website | Murakami Laboratory |
Research interest
X-ray crystallography
Understanding of molecular mechanism of proteins based on their structures at atomic resolution is our major research object. For structural analysis of protein molecule - in particular for membrane proteins - X-ray crystallography is the most powerful technology.
Although membrane proteins are very tough target for X-ray crystallography, we are also trying to develop new techniques to challenge these targets having difficulty in crystallographic analysis, including an efficient purification methods and an new crystallization method.
Membrane protein structural biology
The cell membrane is not only an envelope or a permeability barrier for the cell, but also the right place for certain biological reactions, like membrane transport, energy metabolism and signal transduction. There are a lot of proteins in the membrane, and they play physiologically important roles.
In our laboratory, we seek to understand the molecular mechanism of key biological processes on the cell membrane at the level of protein structure, dynamics and molecular biology. We keep challenging resolutely though it is known that structural analysis of membrane proteins is a very arduous field of science.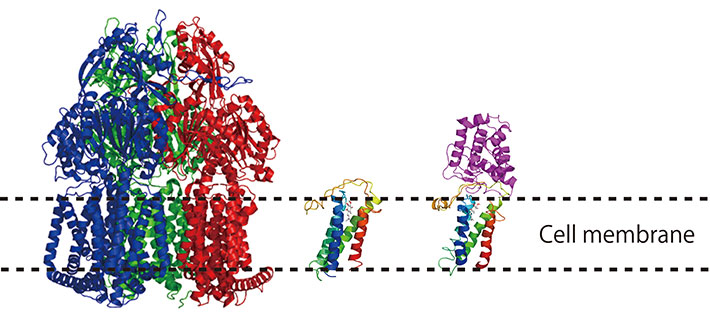 Research findings
Selected publications
[1] Water-mediated recognition of simple alkyl chains by heart-type fatty-acid-binding protein. S. Matsuoka, S. Sugiyama, D. Matsuoka, M. Hirose, S. Lethu, H. Ano, T. Hara, O. Ichihara, S.Kimura, S. Murakami, H. Ishida, E. Mizohata, T. Inoue and M. Murata, Angew. Chem. Int. Ed. Engl., 54, 1508-11 (2015)
[2] Drug uptake pathways of multidrug transporter AcrB studied by molecular simulations and site-directed mutagenesis experiments. X-Q. Yao, N. Kimura, S. Murakami, S. Takada, J. Am. Chem. Soc., 135, 7474-85 (2013)
[3] Growth of protein crystals in hydrogels prevents osmotic shock. S. Sugiyama, M. Maruyama, G. Sazaki, M. Hirose, H. Adachi, K. Takano, S. Murakami, T. Inoue, Y. Mori, H. Matsumura, J. Am. Chem. Soc., 134, 5786-5789 (2012)
[4] Drug export and allosteric coupling in a multidrug transporter revealed by molecular simulations. X-Q. Yao, H. Kenzaki, S. Murakami, S. Takada, Nat. Commun., 1, 117 (2010)
[5] Dynamic nature of disulphide bond formation catalysts revealed by crystal structures of DsbB. K. Inaba, S. Murakami, A. Nakagawa, H. Iida, M. Kinjo, K. Ito, M. Suzuki, EMBO J., 28. 779-791 (2009)
[6] Crystal structures of DsbB- DsbA complex revealing a Cysteine relocation mechanism. K. Inaba, S. Murakami, M. Suzuki, A. Nakagawa, E. Yamashita K. Okada, K. Ito, Cell 127, 789-801 (2006)
[7] Crystal structures of a multidrug transporter reveal a functionally rotating mechanism. S. Murakami, R. Nakashima, E. Yamashita, T. Matsumoto and A. Yamaguchi, Nature, 443, 173-179 (2006)
[8] Crystal structure of bacterial multidrug efflux transporter AcrB. S. Murakami, R. Nakashima, E. Yamashita and A. Yamaguchi, Nature, 419, 587-593 (2002)
*Find more about the lab and the latest activities at the lab site

.