【Labs spotlight】 Ueda Laboratory(until Dec. 2022)
Creation of novel biosystem by protein engineering
The Department has a variety of laboratories for Human Centered Science and Biomedical Engineering, in which cutting-edge innovative research is being undertaken not only in basic science and engineering but also in the areas of medicine, pharmacy, agriculture, and multidisciplinary sciences.
This "Spotlight" series features a laboratory from the Department and introduces you to the laboratory's research projects and outcomes. This time we focus on Ueda Laboratory.
※Professor Ueda passed away in December 2022.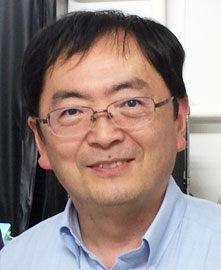 Human Centered Science and Biomedical Engineering
Professor Hiroshi Ueda

| | |
| --- | --- |
| Degree | PhD(Eng) 1992, The University of Tokyo |
| Areas of Research | Protein Engineering, Chemical Biology, Biosensor |
| Keywords | Antibody, Fluorescence, Luciferase |
| Website | Ueda and Kitaguchi Laboratory |
Research interest
There are many proteins in nature, which are principal components of our lives, having high molecular recognition ability and catalytic activity that are still hard to artificially imitate. However, from the viewpoint of application, the natural protein does not always have the optimum properties, where we think is the real charm of protein engineering. This is why we are trying to create various proteins by rational design and molecular evolution technologies. Through the development and utilization of suitable methods, we are expecting to create proteins that can make stunt that native proteins cannot. These will become an indispensable tool in the research area called synthetic biology, which is getting attention at present. In other words, our object is to create a machine that normal engineers are making with steel and plastics, with proteins! Also, our dream is not making enjoyable toys but making gadgets (tools) that are useful in real life.
Especially, we have been focusing on the development of new detection methods, such as open-sandwich immunoassay and Quenchbody assay (Figure 1, top), based on the antigen-dependent dimerization of antibody variable domains (Fv = VH and VL). We proudly develop these methods as unique and useful detection principles. Also, sensitive bioluminescent detection method for protein-protein interaction is being developed based on the "reaction complementation" of mutant luciferases (Figure 1, bottom).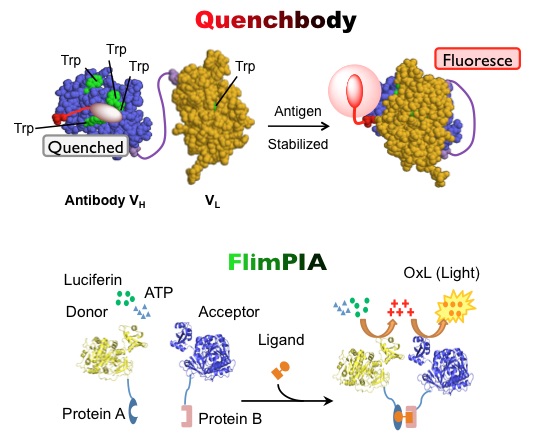 Research findings
Selected publications
Please look at our web site

for details and updates.
Representative papers
[1] J. Dong, M. Shichiri, C.-I. Chung, T. Shibata, K. Uchida, Y. Hagihara, Y. Yoshida and H. Ueda "An Open Sandwich immunoassay for detection of 13(R,S)-Hydroxy-9(E),11(E)-octadecadienoic acid" Analyst 142, 787 - 793 (2017).
[2] H. Ohashi, T. Matsumoto, H.-J. Jeong, J. Dong, R. Abe and H. Ueda "Insight into the working mechanism of Quenchbody: Transition of the dye around antibody variable region that fluoresces upon antigen binding" Bioconj. Chem. 27, 2248-2253 (2016).
[3] M. Kurihara, Y. Ohmuro-Matsuyama, K. Ayabe, T. Yamashita, H. Yamaji and H. Ueda "Ultra sensitive firefly luciferase-based protein-protein interaction assay (FlimPIA) attained by hinge region engineering and optimized reaction conditions" Biotechnol. J. 11, 91-99 (2016).
[4] H.-J. Jeong, T. Kawamura, J. Dong and H. Ueda "Q-bodies from recombinant single-chain Fv fragment with better yield and expanded palette of fluorophores" ACS Sens. 1, 88-94 (2016).
[5] H. Iwai, M. Kojima-Misaizu, J. Dong and H. Ueda "Creation of a ligand-dependent enzyme by fusing circularly permuted antibody variable region domains" Bioconj. Chem. 27, 868-873 (2016).
[6] C.-I. Chung, R. Makino, J. Dong and H. Ueda "Open flower fluoroimmunoassay: a general method to make fluorescent protein-based immunosensor probes" Anal. Chem. 87, 3513-3519 (2015).
[7] R. Abe, H.-J. Jeong, D. Arakawa, J. Dong, H. Ohashi, R. Kaigome, F. Saiki, K. Yamane, H. Takagi and H. Ueda "Ultra Q-bodies : quench-based antibody probes that utilize dye-dye interactions with enhanced antigen-dependent fluorescence" Sci. Rep. 4, 4640 (2014).
[8] Y. Ohmuro-Matsuyama, K. Nakano, A. Kimura, K. Ayabe, M. Ihara, T. Wada and H. Ueda "A protein-protein interaction assay based on the functional complementation of mutant firefly luciferases" Anal. Chem. 85, 7935-7940 (2013).
[9] Y. Ohmuro-Matsuyama, C.-I. Chung and H. Ueda "Demonstration of protein-fragment complementation assay using purified firefly luciferase fragments" BMC Biotechnol. 13, 31 (2013).
[10] H.-J. Jeong, Y. Ohmuro-Matsuyama, H. Ohashi, F. Ohsawa, Y. Tatsu, M. Inagaki and H. Ueda "Detection of vimentin serine phosphorylation by multicolor Quenchbodies" Biosens. Bioelectron. 40, 17-23 (2013).
[11] J. Dong, A. Sakurai, N. Nomura, E.Y. Park, F. Shibasaki and H. Ueda "Isolation of recombinant phage antibodies targeting the hemagglutinin cleavage site of highly pathogenic avian influenza virus" PLoS ONE 8, e61158 (2013).
[12] K. Minami, M. Ihara, S. Kuroda, H. Tsuzuki and H. Ueda "Open-sandwich molecular imprinting: making a recognition matrix with antigen-imprinted antibody fragments" Bioconj. Chem. 23, 1463-1469 (2012).
[13] M. Kojima, H. Iwai, J. Dong, S.-L. Lim, S. Ito, K. Okumura, M. Ihara and H. Ueda "Activation of circularly permutated β-lactamase tethered to antibody domains by specific small molecules" Bioconj. Chem. 22, 633-641 (2011).
[14] K.N. Islam, M. Ihara, J. Dong, N. Kasagi, T. Mori and H. Ueda "Direct construction of an open-sandwich enzyme immunoassay for one-step noncompetitive detection of thyroid hormone T4" Anal. Chem. 83, 1008-1014 (2011).
[15] R. Abe, H. Ohashi, I. Iijima, M. Ihara, H. Takagi, T. Hohsaka and H. Ueda" "Quenchbodies" : quench-based antibody probes that show antigen-dependent fluorescence" J. Am. Chem. Soc. 133, 17386-17394 (2011).
[16] H. Iwai, B. Oztürk, M. Ihara and H. Ueda "Antibody affinity maturation in vitro using unconjugated peptide antigen" Protein Eng. Des. Sel. 23, 185-193 (2010).
[17] M. Ihara, A. Yoshikawa, Y. Wu, H. Takahashi, K. Mawatari, K. Shimura, K. Sato, T. Kitamori and H. Ueda "Micro OS-ELISA: Rapid noncompetitive detection of a small biomarker peptide by open-sandwich enzyme-linked immunosorbent assay (OS-ELISA) integrated into microfluidic device" Lab. Chip 10, 92-100 (2010).
[18] T. Sakata, M. Ihara, I. Makino, Y. Miyahara and H. Ueda "Open sandwich-based immuno-transistor for label-free and non-competitive detection of low molecular weight antigen" Anal. Chem. 81, 7532-7537 (2009).