【Labs spotlight】 Tanji Laboratory(until Mar. 2020)
Environment and Engineering based on the Nature
The Department has a variety of laboratories for Life Science and Technology, in which cutting-edge innovative research is being undertaken not only in basic science and engineering but also in the areas of medicine, pharmacy, agriculture, and multidisciplinary sciences.
This "Spotlight" series features a laboratory from the Department and introduces you to the laboratory's research projects and outcomes. This time we focus on Tanji Laboratory.
※Professor Tanji was retired on March 31, 2020.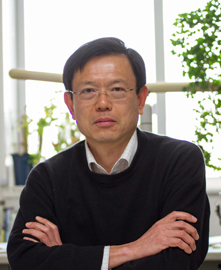 Life Science and Technology
Professor Yasunori Tanji
| | |
| --- | --- |
| Degree | PhD 1995, Tokyo Institute of Technology |
| Areas of Research | Biochemical Engineering, Environmental Microbiology |
| Keywords | Bacteriophage, Biologically Influenced Corrosion, Wastewater Treatment |
Research interest
Use of bacteriophage for controlling pathogenic bacteria
In the dairy industry, mastitis is an endemic problem responsible for an important decline in milk production. Mastitis can be caused by over 150 different microorganisms, of which one of the most important is Staphylococcus aureus. The incidence of antibiotic-resistant bacteria has increased in recent years. Phage therapy is one possible option, and can provide an economical tool for controlling pathogens. We isolated two novel phages, designated ΦSA012 and ΦSA039. They were found to have a lytic effect on a broad range of S. aureus isolates obtained from mastitic milk.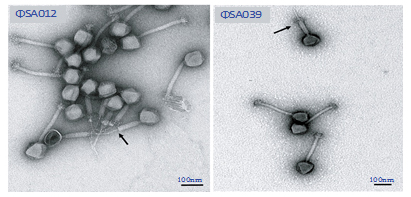 Microbiologically Influenced Corrosion
Microbiologically influenced corrosion (MIC) occurs as a consequence of biofilm formation, which leads to the formation of oxygen concentration gradients and differential aeration cells on the metal surface. The presence of biofilm on a metal surface, as well as its metabolic activities, can cause MIC.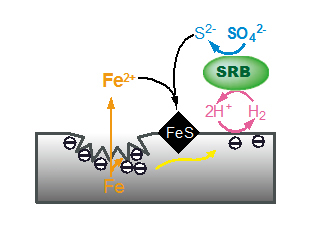 Bacterial communities and antibiotic-resistant strains in the housefly
The flies carried considerable number of antibiotic-resistant bacteria, including multiple-antibiotic-resistant pathogens that could pose severe threats to public health. Research is necessary in order to achieve a better understanding of fly-mediated dissemination of antibiotic resistance genes. In addition, since flies undergo metamorphosis to reach full maturity, one intriguing question is how the microbiota changes during this developmental process. Such information could be a valuable reference for controlling housefly-mediated dissemination of pathogens and antibiotic resistance.
Research findings
Selected publications
Environmental microbiology / Microbiologically influenced corrosion
[1] Y. Tanji, K. Toyama, R. Hasegawa, K. Miyanaga. Biological souring of crude oil under anaerobic conditions. Appl. Microbiol. Biotechnol., 98(4), 1853-1861 (2014)
[2] R. Hasegawa, K. Toyama, K. Miyanaga, Y. Tanji. Identification of crude-oil components and microorganisms that cause souring under anaerobic conditions. Appl. Microbiol. Biotechnol., 98(4), 1853-1861 (2014)
[3] T. Wei, R. Ishida, K. Miyanaga, Y. Tanji. Seasonal variations in bacterial communities and antibiotic-resistant strains associated with green bottle flies (Diptera: Calliphoridae) Appl. Microbiol. Biotechnol., DOI 10.1007/s00253-013-5498-1 (2014)
[4] Ting Wei, Jun Hu, Kazuhiko Miyanaga and Yasunori Tanji, Comparative analysis of bacterial community and antibiotic-resistant strains in different developmental stages of the housefly (Musca domestica), Appl. Microbiol. Biotechnol., 97(4):1775-1783. (2013)
[5] D. Zhao, C.-P. Lim, K. Miyanaga, Y. Tanji. Iodine from bacterial iodide oxidization by Roseovarius spp. inhibits the growth of other bacteria. Appl. Microbiol. Biotechnol., 97, 2173-2182 (2013)
[6] T. Wei, K. Miyanaga, Y. Tanji. Comparative analysis of bacterial community and antibiotic-resistant strains in different developmental stages of the housefly (Musca domestica) Appl. Microbiol. Biotechnol., 97, 1775-1783 (2013)
[7] H. Nguyen Pham, R. Tan, K. Miyanaga, Y. Tanji. Investigation of hydrogen sulfide production in a polluted estuary by using a vertical column simulator. J. Chem. Eng. Japan, 46(5), 359-366 (2013)
[8] T. Reasmey, K. Miyanaga, D. Uy, Y. Tanji, Effect of heat-alkaline treatment as a pretreatment method on volatile fatty acid production and protein degradation in excess sludge, pure proteins and pure cultures. Bioresource Technology, 118 390-398 (2012).
[9] D. Zhao, K. Miyanaga, Y. Tanji, Surface activity of heat-alkaline treated excess sludge, Biochemical Engineering Journal 56, 241- 246, (2011)
[10] T. Reasmey, K. Miyanaga, K. Toyama, D. Uy, Y. Tanji. Changes in composition and microbial communities of excess sludge after heat-alkaline treatment and acclimation. Biochem. Eng. J. 52, 151-159 (2010)
[11] C. P. Lim, D. Zhao, Y. Takase, K. Miyanaga, T. Watanabe, Y. Tomoe, Y. Tanji, Increased bioclogging and corrosion risk by sulfate addition during iodine recovery at a natural gas production plant. Appl. Microbiol. Biotechnol., 89:825-834 (2010)
Related to bacteriophage
[1] I. Takeuchi, K. Osada, A.H. Azam, H. Asakawa, K. Miyanaga, Y. Tanji The presence of two receptor-binding proteins contributes to the wide host range of staphylococcal Twort-like phages. Appl. Environ. Microbiol. Vol. 82, No. 19, 5763-5774 (2016)
[2] T. Furusawa1, H. Iwano1, Y. Hiyashimizu1, K. Matsubara1, H. Higuchi, H. Nagahata, H. Niwa, Y. Katayama, Y. Kinoshita, K. Hagiwara, T. Iwasaki, Y. Tanji, H. Yokota1, Y. Tamura. Phage therapy is effective in a mouse model of bacterial equine keratitis. Apple. Env. Microbiol, 82, doi: 10.1128/AEM.01166-16 (2016)
[3] Y. Tanji, A. Tanaka, K. Tani, M. Kurimoto, K. Miyanaga. IgG-dependent aggregation of Staphylococcus aureus inhibits bacteriophage attack. Biochem. Eng. J., 97, 17-24 (2015)
[4] J. Hu, K. Miyanaga, Y. Tanji Diffusion of bacteriophages through an artificial biofilm model. Biotechnol. Prog., 28(2):319-326, (2012)
[5] S. Ohno, H. Okano, Y. Tanji, A. Ohashi, K. Watanabe, K. Takai, H. Imachi. A method for evaluating the host range of bacteriophages using phages fluorescently labeled with 5-ethynyl-2'-deoxyuridine (EdU), Appl. Microbiol. Biotechnol., 95(3),777-788 (2012)
[6] J. Hu, K. Miyanaga, Y. Tanji. Diffusion properties of bacteriophages through agarose gel membrane. Biotechnol. Prog., 26(5), 1213-1221 (2010)
[7] H. Kunisaki, Y. Tanji. Intercrossing of Phage Genomes in a Phage Cocktail and Stable Coexistence with Escherichia coli O157:H7 in Anaerobic Continuous Culture Appl. Microbiol. Biotechnol.,85, 1533-1541(2010)
[8] J. Synnott, Y. Kuang, M. Kurimoto, K. Yamamichi, H. Iwano. Y Tanji. Isolation from sewage influent and characterization of novel Staphylococcus aureus bacteriophages with wide host range and potent lytic capability. Apple. Env. Microbiol, 75, 4283-4490 (2009)
[9] Kuang, H. Jia, K. Miyanaga, Y. Tanji. Effect of milk on antibacterial activity of tetracycline against Escherichia coli and Staphylococcus aureus isolated from bovine mastitis. Appl. Microbiol. Biotechnol., 84, 135-142 (2009)
[10] F. Mahichi. A. J. Synnott, K. Yamamichi, T. Osada, Y. Tanji. Recombination of T2 bacteriophage using IP008 phage long tail fiber genes expands host range while retaining lytic activity. FEMS Microbiol. Letter, 295, 211-217 (2009)
[11] A. Synnott, K. Ohshima, Y. Nakai, Y. Tanji. IgA response of BALB/c mice to orally administered Salmonella Typhimurium flagellin-displaying T2 bacteriophages. Biotechnol. Prog., 25, 552-558 (2009)
[12] Y. Tanji, K. Hattori, K. Suzuki, K. Miyanaga. Spontaneous Deletion of 209 kbp gene Fragment from the Escherichia coli Genome Makes cell Resistant to an Assortment of Infectious Phages. Apple. Env. Microbiol, 74, 4256-4263 (2008)