Cell Biology Center Colloquium 0040
Date

Friday, October 5, 2018
Time

16:00 - 17:00
Venue

Suzukakedai Campus, Tokyo Institute of Technology S2 Building 2F meeting room
Speaker

Dr. Xiaoyang Wu (Ben May Department for Cancer Research, The University of Chicago)
Contact

Fumi Kano
Cell Biology Center, Institute of Innovative Research
E-mail : kano.f.aa@m.titech.ac.jp
There will be a seminar by Dr. Xiaoyang Wu at Ben May Department for Cancer Research, The University of Chicago, who is working on skin development, skin diseases, and skin tissue engineering with adult stem cells.
You are welcome to attend.
Program
Lecturer

Dr. Xiaoyang Wu
(Ben May Department for Cancer Research, The University of Chicago)

Title

Skin engineering with epidermal stem cells

Abstract

Gene therapy with adult stem cells isolated from skin can be used for treatment of a variety of otherwise terminal or severely disabling diseases. However, development of clinically relevant skin stem cell therapy remains challenging to the field due to lack of a good animal model to test the efficacy and safety of potential therapy in vivo. We have now resolved the technical hurdles and developed a new mouse model for skin stem cell therapy. With this novel platform, we have explored the feasibility and clinical potential of skin gene therapy. Our results will provide an important proof-of-concept and serve as the basis for development of effective therapeutic strategies with skin stem cells targeting various diseases in the future.

Reference

1.

Li Y, Kong Q, Yue J, Gou X, Xu M, Wu X. Nature Biomedical Engineering.
Protection against cocaine-seeking and acute overdose by genome-edited epidermal stem cells. 2018, in press.

2.

Yue J, Gou X, Li Y, Wicksteed B, Wu X. Cell stem cell.
Treatment of obesity and diabetes with CRISPR-mediated genome editing in epidermal stem cells. 2017 Aug 3; 21:256-263.

3.

Lee P, Jiang S, Li Y, Yue J, Gou X, Chen SY, Zhao Y, Schober M, Tan M, Wu X. EMBO Journal,
Phosphorylation of Pkp1 by RIPK4 regulates epidermal differentiation and skin tumorigenesis. 2017 May 15. PMID: 28507225.

4.

Yue J, Xie M, Gou X, Lee P, Schneider MD, Wu X. Developmental Cell.
Microtubules regulate focal adhesion dynamics through MAP4K4. 2014 Dec 8;31(5):572-85. PubMed PMID: 25490267; PubMed Central PMCID: PMC4261153.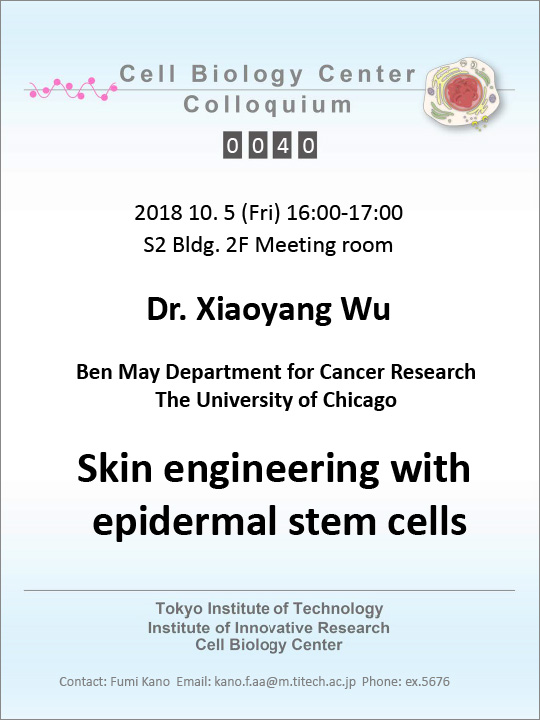 Update : September 13, 2018