Date

Monday, July 10, 2017
Time

16:00 - 17:00
Venue

Suzukakedai Campus, Tokyo Institute of Technology
S2 Bldg, 7th Floor Room 705
Program
Lecturer

Dr. Lionel Larue (INSERM, The Institut Currie, France)

Title

From melanoblast to melanoma: a stressed journey

Abstract

Melanoma is a very aggressive tumor originating from neural-crest derived melanocytes. The transformation of normal melanocytes into melanoma cells is a multistep process. It is crucial to elucidate the molecular and cellular mechanisms of melanocyte development (specially the molecular network that controls the induction of neural crest) and transformation, to improve the prevention, early diagnosis, prognosis and therapy.

Our research combines molecular approaches based on an understanding of the signaling associated with extracellular factors, a cellular approach based on an understanding of the establishment/maintenance and alteration of the melanocyte lineage and an approach based on animal models that will be used to test specific innovative treatments. In fine, we expect that we can ultimately propose new prognostic markers for melanoma and improved therapeutic treatments.
There will be a seminar by Dr. Lionel Larue (INSERM, The Institut Currie, France), who is a former co-worker of Prof. Masayuki Takahashi (School of Life Science and Technology) and a top scientist working on melanoma biology. You are welcome to attend. See also the attached pdf.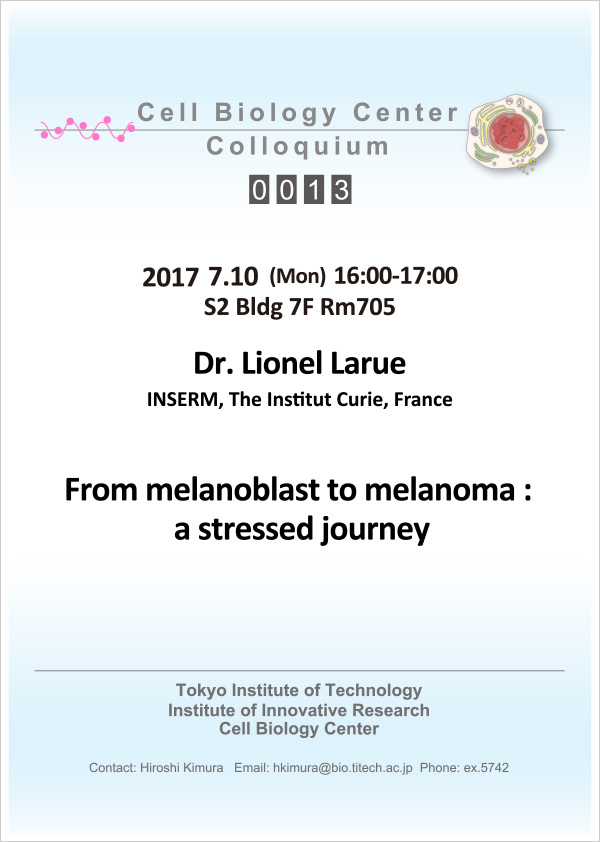 Contact
Specially Appointed Professor TAKAHASHI MASAYUKI
Department of Life Science and Technology, School of Life Science and Technology
Tokyo Institute of Technology
E-mai takahashi.m.ay@m.titech.ac.jp
Hiroshi Kimura
Cell Biology Center, Institute of Innovative Research
E-mail hkimura@bio.titech.ac.jp