Tokyo Tech launches Introduction to Computer Science and Programming MOOC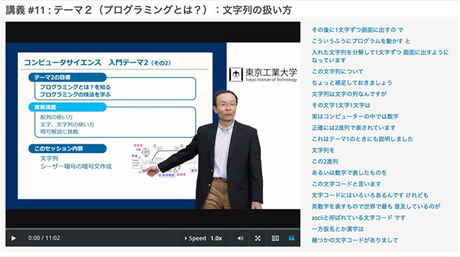 Tokyo Tech launched Introduction to Computer Science and Programming

in August 2019, bringing the total number of MOOC* offered by the Institute to nine since it joined the edX platform in October 2015.
This MOOC, taught by Professor and Executive Vice President for Research Osamu Watanabe, introduces the basics of computer science while allowing participants to practice code using the Ruby programming language. After covering the basics, the final few lectures in the course cover some typical applications of computation in modern society — simulation, data mining, artificial intelligence.
Introduction to Computer Science and Programming offers a basic introduction to high school and university students, but it also functions as a great resource for Japan's elementary school teachers, who are expected to incorporate programming into their curricula from fiscal year 2020 onwards.
While this initially launched course is taught in Japanese, an English version is scheduled for release in early 2020.
MOOC*
Massive Open Online Courses are open to anyone with internet access and free of charge. Since the launch of the first major MOOC platform in 2012, this format of teaching and learning has increased explosively. In 2018, some 11,000 MOOCs were being offered by over 900 universities and higher education institutions. At Tokyo Tech, the Online Education Development Office is in charge of MOOC creation. The Institute provides its MOOCs on the edX platform under the name TokyoTechX