Since 2013, Tokyo Tech-Asia Young Scientist and Engineer Advanced Study (AYSEAS) has been connecting Tokyo Tech students with counterparts from universities in Indonesia, the Philippines, Thailand, Singapore, and Vietnam. Though ordinarily conducted as a 10-day on-site program hosted by an AYSEAS member university, AYSEAS was held online in AY 2021. Eleven students from Tokyo Tech and 24 students from member universities participated.
Program Overview
The online iteration of AYSEAS was conducted with the support of various organizations, companies and individuals, providing participants with opportunities to engage in virtual site visits and talks organized especially for the 2021 program. Two AYSEAS alumni from Thailand spoke with current participants about their paths to doctoral programs in Japan, as well as their careers and current research. In another session, staff members from Japan International Cooperation Agency (JICA) Viet Nam Office and Kopernik Japan discussed their experiences in the field of international aid and responded to AYSEAS participants' questions. Participants also virtually visited the site of Hitachi, Ltd.'s Ho Chi Minh City metro project. As the city was under lockdown, the live broadcast from the construction site was cancelled, but thanks to the extensive inclusion of photos and videos in the briefing presentation by Hitachi, participants reported feeling as though they had visited in person. In addition, Dr. Hiroshi Takagi of Tokyo Tech's Department of Transdisciplinary Science and Engineering lectured on development and natural disasters in Asia.
As in previous years, AYSEAS participants worked together in groups to prepare final presentations. Each of the six groups was tasked with creating a plan to launch a company or an NGO, or create a product or service, and present it on the final day of the program. The plans proposed covered topics ranging from brain drain and education to disaster management in a pandemic, public health, and tourism. The quality of the presentations indicated participants' strong efforts and cohesion despite various constraints.
In a typical year, the best part of AYSEAS is that participants from different backgrounds reside, eat, and socialize together throughout the program, thereby developing mutual understanding and establishing close relationships. In preparing for the online program, the organizing team was concerned with how these valuable interpersonal connections could be nurtured under completely different circumstances. However, students gathered during non-program hours on their own initiative and used various online tools to have discussions and play together. In the closing session, students surprised AYSEAS organizers with a video they created to express their gratitude for the program.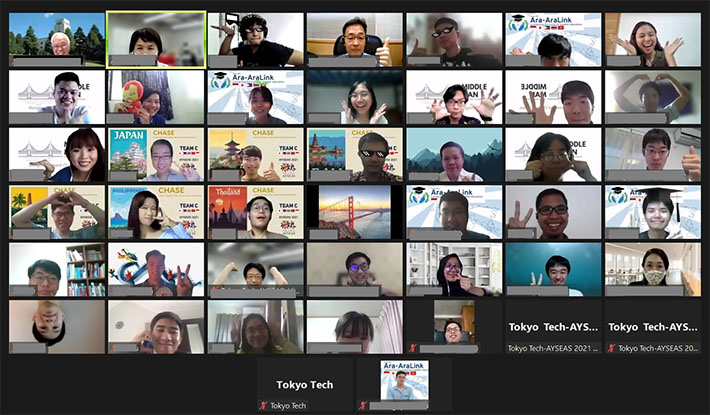 Program Schedule
July
Preliminary study sessions (Tokyo Tech students only: orientation, English discussion practice, lecture on Asia)
August 23
Pre-program exchange session
August 30
Program opening (orientation and ice-breaking session) and talk by past participants
August 31
Virtual visits to Japan International Cooperation Agency (JICA) Viet Nam Office and Kopernik Japan
September 1
Virtual visit to Hitachi, Ltd.
Group discussion
September 2
Lecture: Development and Natural Disaster in Asia
Group discussion
September 3
Group discussion
Study @Tokyo Tech session
September 6
Final presentations and closing ceremony
Tokyo Tech-AYSEAS 2021 Participating Universities
Japan: Tokyo Institute of Technology
Indonesia: Bandung Institute of Technology, Gadjah Mada University
Thailand: Kasetsart University, King Mongkuts Institute of Technology Ladkrabang, King Mongkuts University of Technology Thonburi
The Philippines: De La Salle University, University of the Philippines, Diliman
Vietnam: Hanoi University of Science and Technology, Ho Chi Minh City University of Technology
Participants Experiences
Narumi Iiboshi

1st year, School of Environment and Society, Tokyo Tech
I applied for this program because it offered opportunities for online exchange with international students. Before participating in AYSEAS, I thought I wanted to brush up my English, but I worried that studying abroad might be too hard for me. At this point, the online program seemed the best option for me.
At first, I was thinking it would be difficult to become close to other students in an online program. However, along with virtual visits and discussion sessions within the program, we were able to spend a lot of time together. We had discussions, played online games, and even played musical instruments together — activities which were possible because we were participating from home. It was a great time for all of us.
I learned many things through AYSEAS, including the cultures of other Asian countries, and jobs of international business persons. At the same time, I found my language skills are not good enough to talk a lot about Japanese culture. These are my next challenges, and I am feeling motivated to study more. Thank you, AYSEAS, for these great experiences!
Mantaro Kawaguchi

3rd year, School of Life Science and Technology, Tokyo Tech
I was wondering if I could participate in an international program while it is difficult to travel abroad, and I found Tokyo Tech-AYSEAS. I applied without hesitation as I was able to easily participate online.
The program focused on small group discussions, and I was greatly helped by the members of my group. I had no experience participating in discussions in English only, and I couldnt even get into the conversations at the beginning. However, we set up a place for communication outside the program hours, and as I got in close contact with my group members, I gradually became able to get to know them and participate in conversations. I was very pleased to be able to establish a relationship with not only a groupmate for the program but also a friend overseas for the first time. Also, because there is now the universal topic of coronavirus, I feel that we have made a smooth transition to cross-cultural understanding, starting with the differences in the responses of each country.
Of course, activities outside the group work, such as company visits and lectures by program alumni, were also meaningful. I also had many opportunities to think about my career plan. I think AYSEAS was a program that gave the maximum results even though we couldnt go overseas.
I would like to review what I learned in this program and prepare for actual study abroad. And I hope I will have the opportunity to talk directly with the friends I met during the program. Thank you, AYSEAS.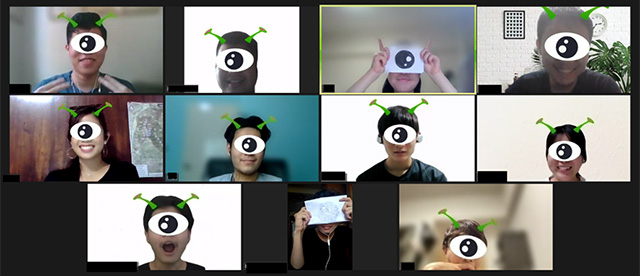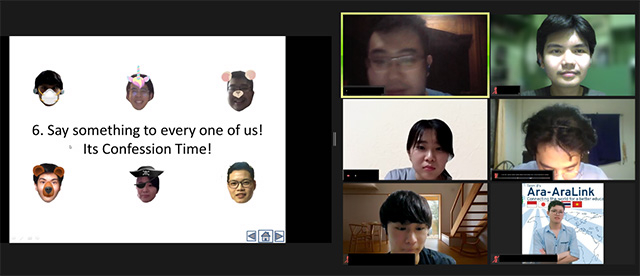 Justine Mharzeline Guanzon

master's 1st year, Ho Chi Minh City University of Technology (HCMUT)
I've been curious about Tokyo Tech's AYSEAS program since I was studying in UP Diliman for my bachelor's degree. Good thing that the academic institution where I am taking my master's degree is also part of the AYSEAS member university roster. Actually, the promotional poster for the AYSEAS program that I saw was from UP Diliman's Office of International Linkages and not from HCMUT. I am so grateful that despite the large pool of applicants for the program, I was chosen to be part of it.
When the AYSEAS participants' handbook was sent to us, I felt quite unsure about joining since I realized that I would be the sole representative of HCMUT. As an introvert, I don't easily adjust to talking with new people. However, during the pre-program sessions, where I met my Vietnamese counterparts from Hanoi University of Science and Technology, my social anxiety was gone. I was able to share with them not only my experiences and my knowledge, but also myself, my opinions and views about various topics. It was fun and incredible preparing the introductory video about Vietnam. The whole experience was a respite from the life I had after COVID-19 came into place. It was also a great way to have fun cultural exchanges online.
Apart from the Vietnam team, AYSEAS also grouped us so that each team had members from various countries. We were able to prepare the final presentation with each member pitching amazing ideas that I thought would never be raised if we were from the same country. All participants were also able to meet inspiring professionals from various NGOs and companies. As a young member of the academe, the whole experience made me realize how important cultural immersion is, even in the engineering and science field.
The program enabled me to understand different societal problems that I usually dismiss without seeing or acknowledging. I got to understand why we need to have immediate, short-term or long-term solutions for problems related to education, mass transportation, health, culture, and so on. Even though some of us are not particularly heavily affected by these problems, I was able to know my role, our role. It made me realize that it is something that I can't un-see just because it doesn't affect me. As engineers and scientists, we have to act now more than ever to innovate continuously to battle and solve these societal challenges. My only regret was that I had only a week to spend with my new friends. I wished for the program to be longer, but nonetheless, it was one of my best experiences this year. Huge thanks to the whole team behind this program. I can't wait to meet in person everyone who attended!