Four Tokyo Tech researchers, including Associate Professor Ryosuke Nishida, were awarded the 2023 Suematsu Award and a ceremony was held on September 12.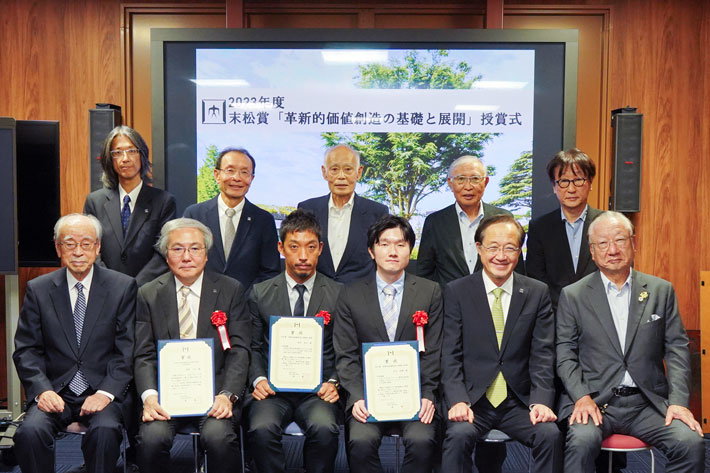 Award winners (second from left in front row) Institute Professor Ryoji Kanno, Associate Professor Ryosuke Nishida , and Special Assistant Professor Koki Yoshida with Honorary Professor Yasuharu Suematsu (front left).
The Suematsu Award "Fundamentals and Developments of Innovative Value Creation" was established to foster young researchers seeking research which leads to "innovative value creation" in various fields of science and technology, including the humanities and social sciences. It aims to provide a wide range of support for their research that is essential to the creation of innovative value. This award is the successor to the Suematsu Award "Fundamentals and Development of Digital Technology", which was established by the Suematsu Fund in 2018. This year we have expanded the eligibility of applicants.
Three recipients were awarded as FY 2023, the 6th award counting from its predecessor "Fundamentals and Development of Digital Technology". In addition, a special award (the Suematsu Innovative Research Award) was presented to a researcher for remarkable research achievements.
Attending the ceremony were: the three award winners and one special award winner, President Kazuya Masu, Executive Vice President for Research Osamu Watanabe, and guests of honor including Honorary Professor Yasuharu Suematsu, Founder, Chairman and Director of Gurunavi Inc. Hisao Taki, Professor Emeritus Katsuhisa Furuta, Fumio Honbo of the Tokyo Tech Alumni Association (Kuramae Kougyoukai), and the Executive Assistant to the President. At the ceremony to present the recipients with their award notices, the researchers gave presentations on their respective research topics. This was followed by Q&A and words of encouragement from Honorary Professor Suematsu and other attendees.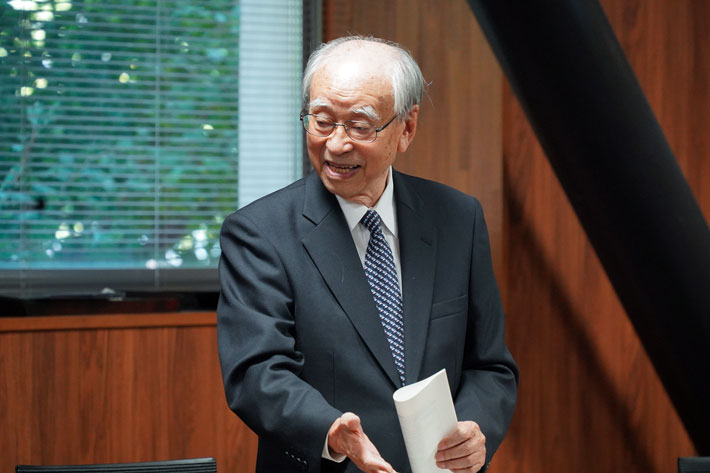 2023 Suematsu Award "Fundamentals and Developments of Innovative Value Creation" and "Special Award" Winners
An exploratory study on the collection and analysis of good practices for AI utilization in e-government policies and the social implementation of AI
As research on rule-making for AII is advancing, Japan has many regulations based on individual laws, and does not have a comprehensive policy package. In parallel comparative and empirical studies have not progressed sufficiently except for legal and legislative policy studies. This study collects and analyzes good practices in e-government policies both domestic and some representative countries. Finally, this study aims to contribute academically and practically to rule-making of AI.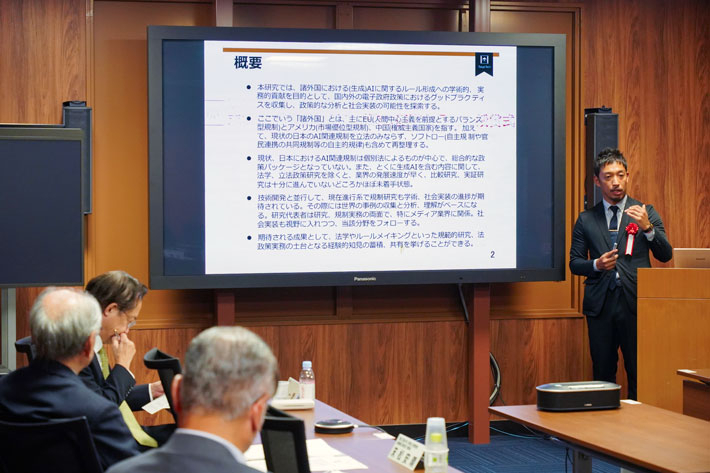 Geometric control of solid-state spins toward topological quantum simulation
The topological nature of matter is a fundamental concept in modern physics. At the same time, it is expected to play an essential role in technologies of future society, such as quantum computers. However, while topological properties generally have the advantage of being resistant to noise, they also have the disadvantage of being difficult to control artificially. In recent years, solid-state quantum systems, represented by spins in diamond, have attracted attention for their ability to freely control their topological properties (Berry curvature, Chern number, etc.). In this research, by expressing a unique property called "quantum entanglement" in this solid-state quantum system, we can acquire higher controllability and quantum-simulate the complex topological phases of other materials and their phase transitions. By doing so, we aim to create innovative value with this quantum simulator to explore topological materials that hold the key to quantum memory and quantum computer applications.
Development of molecular-digital hybrid technology by integration of DNA gelmolecular robot and electrochemical measurement
DNA has the property of binding by complementary sequences through the four types of bases. As a molecule that integrates structure and information, DNA is expected to be used as a molecular-scale computer and sensor for IoNT(Internet of Nano Things) and medical nanomachines. However, conventional DNA computing can only handle molecular information, and the computing process can only be performed in test tubes. Thus, this study aims to realize a conversion technology of molecular information into digital information by integrating a DNA gel computer with liquid-liquid phase separation and electrochemical measurement technology. DNA gels could recognize a specific combination of molecular inputs and output a DNA logic computing result by physical DNA droplet phase separation. The integrated comb electrical device could measure the DNA droplet phase separation as a capacitance change. This research could open new avenues in various fields as a fundamental technology for innovative value creation that bridges the gap between molecular-scale information and digital information.
 Developed super lithium-ion conductor for solid electrolyte with world's highest conductivity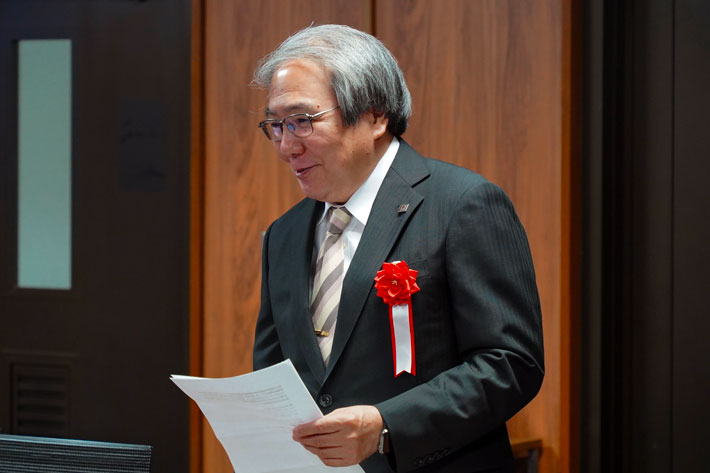 Background to the award
Former Tokyo Tech President and Honorary Professor Yasuharu Suematsu was awarded the Japan Prize in 2014 for his contributions to the development of high-capacity, long-distance optical fiber communications through his research at the Institute, particularly his groundbreaking research related to dynamic single-mode lasers. He donated a portion of the prize money to Tokyo Tech in hopes of encouraging young scientists and engineers to pursue research in diverse fields, develop new technology systems, and delve into the unexplored domains of science.
Suematsu hopes to create a rising tide of activities that will reveal the now-hidden shape of the future. The Tokyo Institute of Technology Fund created the Suematsu Fund to promote research in line with Suematsu's wishes. Founder, Chairman and Director of Gurunavi Inc. Hisao Taki of Gurunavi Inc., a Tokyo Tech alumnus and supporter of the Tokyo Institute of Technology Fund since its inception, also donated a significant additional sum, making the creation of this award possible.
This award has been renamed as the "Fundamentals and Developments of Innovative Value Creation" to provides even broader support starting in 2023.

This project is supported by Tokyo Tech Fund Tokyo Institute of Technology Fund
Giving to Tokyo Tech

Further Information
General Affairs Group, Research Planning Division