Career Paths
Bachelor's Degree Graduates
About 90% of graduates advance to the graduate program to conduct more specialized research.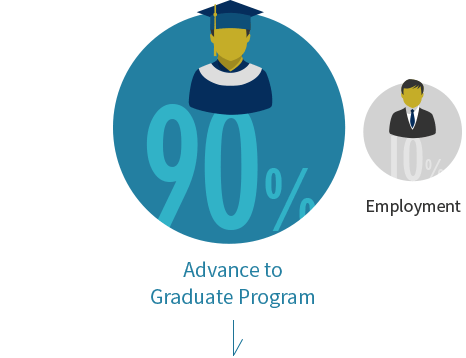 Graduate Major Connected
to the Undergraduate Major in Mathematics
Master's and Doctoral Degree Graduates
Tokyo Tech has produced leaders in many areas. Master's and doctoral degree graduates use their specialized knowledge to become successful professionals in various fields.
Career Paths for Mathematics Postgraduates
Potential Career Paths

Academic, high school teacher
Researcher at research institutes
Professional specialist in the public and private sectors (insurance and financial services, information, communications, manufacturing, etc.)
Potential Employers for Graduates

Academic / Researcher / Teaching Assistant / Middle/Upper Secondary School Teacher / Mizuho Securities / Nippon Life Insurance / Mitsui Life Insurance / Japan Post Insurance / Meiji Yasuda Life Insurance / Asahi Mutual Life Insurance / Sumitomo Life Insurance / Fukoku Mutual Life Insurance / Taiyo Life Insurance / Dai-Ichi Life Insurance / Tokio Marine & Nichido Life Insurance / Daido Life / Aioi Nissay Dowa Insurance / Nisshin Fire & Marine Insurance / Aozora Bank / Daiwa Securities / The Fuji Fire and Marine Insurance / Nipponkoa Insurance / National Mutual Insurance Federation of Fishery Co-operatives / Chuo Mitsui Asset Trust and Banking Company / National Mutual Insurance Federation of Agricultural Cooperatives / Mizuho Financial Group / NTT Data / Nissay Information Technology / Ivis / Daiwa Software Research / CAC / Tokyo Weld / Nihon Insight Technologies / Nihon Unisys / NEC Soft / PricewaterhouseCoopers / Tokio Marine Nichido Systems / NS Solutions / Casley Consulting / The Boston Consulting Group / natsuweb / OBIC / G-Search / Information Development / IBM Japan / Toshiba / Hakuhodo / Square Enix / Otsuka / Ministry of Health, Labour and Welfare / Ministry of Economy, Trade and Industry / Geospatial Information Authority of Japan / City of Yokohama / Shinwasha / Chart Institute / Yoyogi Seminar / Usui Co. / Gakujusha