Merging social and natural sciences through innovation research as a way to bring about changes in society
Alfonso Avila-Robinson
Assistant Professor, Research Planning
Institute for Integrated Cell-Materials Science (WPI-iCeMS), Kyoto University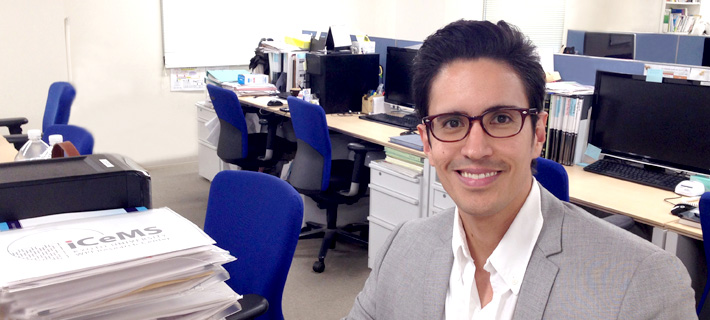 Please tell us about your current job (responsibilities, challenges, rewards, etc.).

Currently, I am working as an assistant professor in the Institute for Integrated Cell-Material Sciences (WPI-iCeMS) at Kyoto University. The WPI-iCeMS is a world-class research center that houses chemists, physicists, computer scientists, material scientists, biologists and even social scientists from more than 15 countries in its efforts to integrate cells and materials. As a social scientist, to work in such an outstanding scientific environment is a great inspiration for me. At the WPI-iCeMS, my work focuses on R&D/technology management and innovation strategies. I am involved in the development of approaches to assess interdisciplinary research, the study of the R&D management of highly interdisciplinary research institutes around the world, and the analysis of the dynamics of emerging science and technologies (iPS cells, chemical biology, synthetic biology, etc.). For this, I make use of quantitative methods, such as bibliometric mapping and visualization approaches, network methods, statistical analysis, and many others. In my job, I see myself as a facilitator that provides the bigger picture of science and technology to scientists. Through this, I want to make scientists aware that greater changes can come about by merging social and natural sciences.
How is the knowledge and experience gained at Tokyo Tech being utilized in your current position?

During my time at Tokyo Tech, I was exposed to a wide array of scientific, technological and social disciplines which has allowed me to thrive in highly interdisciplinary research environments. Being a highly international university, Tokyo Tech gave me the chance to be in frequent contact with people of different nationalities and backgrounds which immensely enhanced my cross-cultural communication skills. Also, the many opportunities I had to attend domestic and international conferences helped me to not only build up a network within my research community, but also to improve my presentation and public speaking skills. I especially value the set of research tools and methods – network analysis, visualization tools, data mining, etc. – and the knowledge on the 'science' behind science, technology and innovation that I learned in the Graduate School of Innovation Management. Finally, my time at Tokyo Tech gave me the chance to gain life-lasting research skills, such as the ability to work independently, to develop my own research ideas, and to communicate them effectively in international, high-impact journals. All these knowledge, skills and experiences have served me well during my post-Tokyo Tech career.
What are your future goals?

Two main aspects have been particularly inspiring during my time at the WPI-iCeMS to set my future career goals: the intensive merging of multiple scientific and engineering disciplines as the future paradigm for innovation, and the translation of science into commercial products as the way to transform society. As an innovation researcher, I would like to continue exploring and understanding how organizations, particularly universities and research centers, can take advantage of these opportunities. I am also eager to take a more active role in supporting the development of science-based start-ups and spin-outs by making use of my technology and innovation management expertise. Front-end technologies in the field of life sciences, such as genomics, synthetic biology, or regenerative medicine are particularly appealing for me. One of my greatest desires is to actively participate in bringing about change in society through emerging science and technologies.
Please write a message to students aiming for Tokyo Tech.

I encourage you to exploit any opportunities to build up your skills beyond your areas of expertise. Get out of your academic comfort zone and explore as many different scientific/technological fields as possible. Try to round up your technical skills with social sciences and humanities-oriented courses. By doing so, you will not only be able to widen your horizons, but also to think outside the box and to solve problems in radical ways. Don't think twice and go abroad for some time. Besides, try to learn more than one foreign language. Finally, keep learning, be pro-active, and take risks! Sometime, somewhere, or somehow these skills will give you a competitive edge. It is said that chance favors the prepared mind. For me, this involves a multi-perspective, flexible, and easily inspired mind. I consider Tokyo Tech as an excellent starting point.
Alfonso Avila-Robinson(from Mexico)
2014

Assistant Professor, Research Planning Group, Kyoto University / WPI-iCeMS
2014

Assistant Professor, Innovation Management Group, Kyoto University / WPI-iCeMS
2013

Research Associate, Innovation Management Group, Kyoto University / WPI-iCeMS
2013

Doctorate in Management of Technology, Graduate School of Innovation Management, Tokyo Institute of Technology
2009

Enrolled in the Graduate School of Innovation Management, Tokyo Institute of Technology
The content of this article was accurate at the time of the interview.