Teamwork integrates our ideas, and materializes into our works
Norio Nakanishi
Associate, Structural Engineering Section
Associate, Business Planning Section
Structural Engineering Division, Engineering Department
Nikken Sekkei Ltd.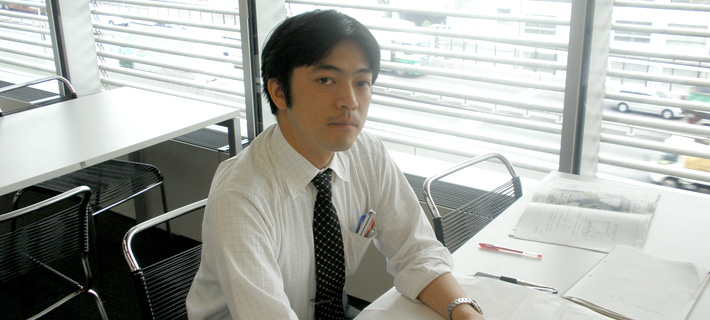 Please tell us about your current job (responsibilities, challenges, rewards, etc.).

I am mainly in charge of structural design at an architectural design firm. During my time at the company, I have been involved in the construction of universities, office buildings, and broadcasting towers, all of which have very unique characteristics and therefore presented special challenges. My work so far has been very rewarding. Through cooperation with numerous design architects, clients, and construction companies, I have experienced many times the great challenge of this job — seeing our efforts come together in a final physical structure.
How is the knowledge and experience gained at Tokyo Tech being utilized in your current position?

I was part of the Soccer Club when I was a Tokyo Tech student. Between the demanding architectural assignments, we held tough soccer club practice sessions. I think this made me very disciplined both mentally and physically, and still helps me today. In my fourth year at the Institute, I was affiliated with a laboratory, where I spent three years conducting research on reinforced concrete systems. We weighed the cement, sand, and gravel constituting concrete with our own hands, and cast concrete mixed with ice. During experiments, we created and then demolished materials ourselves, which was a very effective way to learn. I still very much value those experiences.
What are your future goals?

During about twenty years at the firm, and every project I have been involved in has been different. I still have many things to learn, and I try to do so every day. I want to continue to design more structures and gain more experience utilizing different design techniques. At the moment, for example, I am focusing on the seismic resistance of ceilings. I want to make my contribution to the world by focusing on such particular themes, as well as new design techniques required by modern society.
Do you have a message to students aiming for Tokyo Tech?

University is not only about study, but also about club activities, part-time work experiences, travel, and much more. It is a time when you can freely take on serious challenges and achieve great things with your friends and classmates. I recommend that you try to pinpoint what you want to do in life, and then keep that in mind as you pursue your studies. Don't just solve the problems that you are given, but try instead to identify issues around you that require solutions.
Norio Nakanishi (from Chiba, Japan)
1999

Employed by Nikken Sekkei Ltd.
1999

Master of Engineering, Department of Mechanical and Environmental Informatics, Tokyo Institute of Technology
1997

Bachelor of Engineering, Department of Architecture and Building Engineering, Tokyo Institute of Technology
1993

Enrolled in 6th Academic Group, Tokyo Institute of Technology
The content of this article was accurate at the time of the interview.