Members of the Tokyo Tech Volunteer Group (Tokyo Tech VG) have received the BIGLOBE award after their second-place finish in Mirai Draft 2021, an idea competition that focuses on connecting refugee children with other youngsters around the world. The results of the contest, sponsored by non-profit organization World Vision Japan and IT company BIGLOBE Inc., were announced on September 26.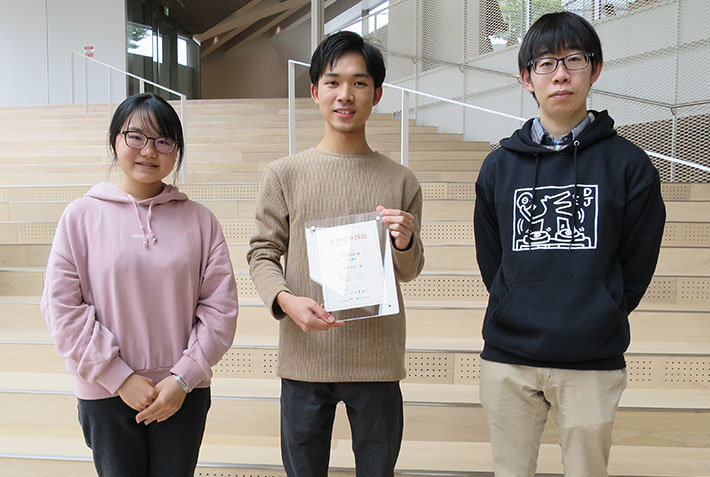 Mirai Draft, held annually since 2018, is Japan's first idea competition to tackle refugee issues together with younger generations. The theme for the 2021 contest was "ideas that promote understanding among children from different backgrounds so that everyone can continue to attend school with peace of mind." One hundred teams applied in the early rounds, and nine teams were selected for the finals, which were held online via Zoom. Each finalist team presented to the judges a pre-recorded video of their idea, and then answered a number of questions on their proposal.
Tokyo Tech VG's proposal, entitled "Let's draw the future: Notebooks exchanged to learn about one another," focused on bringing Syrian and Jordanian children closer together through the exchange of notebooks. Jordan is home to a massive number of Syrian refugees, including children. The proposed project was designed to engage not only children but also their parents. It includes the use of written communication, but also an online method for sharing photos and connecting with one another, as well as a future vision for creating opportunities for participating children to meet each other in person.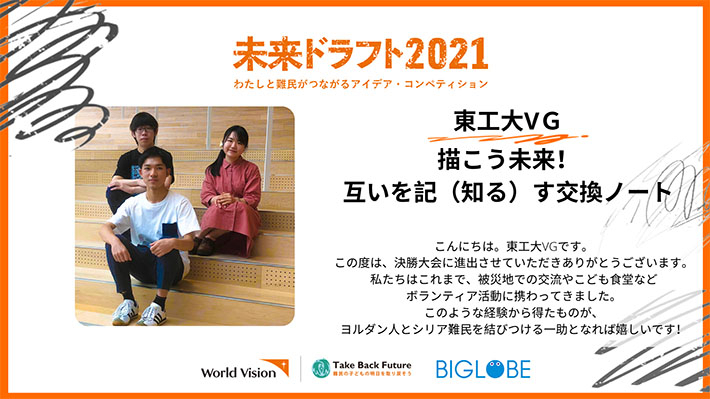 Tokyo Tech VG presentation during finals
In addition to being an effective idea that shows deep consideration for a local problem, the Tokyo Tech VG proposal was highlighted for its low cost and feasibility. It was also lauded for being based on the team members' experiences and takeaways from past activities, both in disaster-stricken areas and at Kids Cafeteria, a local community project in Tokyo. Based on comments from the judges, Tokyo Tech VG demonstrated how meaningful it can be to continue to working together on their activities, and opened up an important learning experience for children — the ability to see the differences in each other's lives.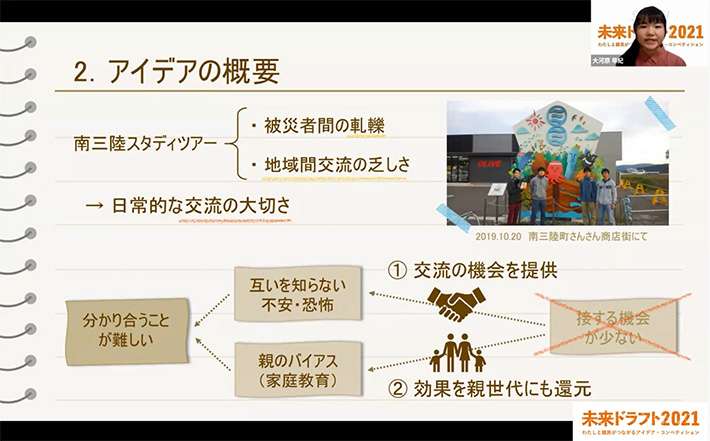 Outline of winning idea

Comments from winning Tokyo Tech Volunteer Group members
Kei Matsumura

3rd year, Civil and Environmental Engineering
I am very pleased that the idea we came up with as a team was received in this way. Two years ago, I had a valuable experience when I visited Minamisanriku Town, an area heavily affected by the Great East Japan Earthquake. The spread of COVID-19, however, greatly limited locations where disaster area reconstruction assistance could be utilized. I very much appreciate being able to put my ideas to use through this project.
In my field of civil engineering, we often discuss how to deal with global issues such as disasters and the environment. The Mirai Draft project allowed me to get closer to people, and to experience the joys and challenges of thinking about their lives. I hope to broaden my perspective and apply the lessons learned to my future academic work. I would like to thank not only Saki Oogawara and Tomoki Ichimura, but also my professors, senior students, and the people at World Vision Japan for their kindness and support during the Mirai Draft project.
Tomoki Ichimura

2nd-year master's student, Architecture and Building Engineering
I participated in the first Mirai Draft competition as an individual in 2018. I remember making it to the finals, but I was told that I needed to convey more effectively my thoughts on why I was participating, not the thoughts of others. Since then, I have become a member of Tokyo Tech VG and engaged in a variety of volunteer activities in the Tohoku region to support the reconstruction of disaster-stricken areas. I have organized a Fukushima study tour and participated in the Minamisanriku Town study tour. I think I was able to develop my ideas with the members based on these real experiences. I also believe that this project was a success because each of us played an important role in the project, despite the fact that COVID-19 forced us to mostly engage online.
What can I do based on my past experiences? I think taking this perspective has helped me to decide the direction of my daily research, and I hope that this will lead to new activities for Tokyo Tech VG. I would like to express my appreciation to the professors and fellow students who have offered their support to our volunteer group, all the people involved in the contest, and of course, the two other members of our team.
Saki Oogawara

2nd year, Civil and Environmental Engineering
The Mirai Draft project was my first external activity as a Tokyo Tech VG member, and I am thrilled to have received the second-place award in the contest. I was also reminded of how grateful I am to be in an environment where so many people, including professors and fellow students, support and encourage us to do our very best even in during these challenging times. On the other hand, I am slightly disappointed as I put all my efforts into this project, and I was hoping to take home the grand prize.
In the future, I will use this experience as a springboard for further activities with Tokyo Tech VG, which increasingly involves an international perspective, and look forward to broadening the scope of my own interests and academic work.
Tokyo Tech Volunteer Group
The Tokyo Tech Volunteer Group, an official Tokyo Tech student group supported by the Student Support Center's Student Success Support Division, was formed after student volunteers visited affected areas soon after the Great East Japan Earthquake of March 11, 2011 to support the reconstruction process. Likeminded students soon joined the group, and in September of that year, momentum increased further with the Tokyo Tech Photo Rescue Project, an effort to clean water- and mold-damaged photos from the areas hit by the tsunami.
Today, the group plans and implements a variety of volunteer activities. Before the COVID-19 pandemic, they were busy with Kids Cafeteria, a local community project that brought children and parents together for evenings of nutritious food at a venue near Ookayama Campus.